Welcome to my Social Bounty Review.
Social Bounty is yet another pay-per-task website that promises to pay you $5 – $20 for every new referral. In fact, the website claims you'll be able to make up to $500 a day by just signing up and completing a few simple tasks. And the best part is that it's all free –at least according to the official website.
This all sounds pretty tempting, right? Well, before, you get carried away, you need to read this Social Bounty review. It will help you figure out what it is all about, who the people behind it are, and whether it is a legit business or not. Afterwards, I will also share with you one of the best legit ways of making money online.
As I did my research on Social Bounty, I came across a number of interesting things. For example, its concept, the idea behind it, and even the website design all look borrowed from a few other sites such as InfluencerEarn, InfluencerBucks, and LiteBucks. I came to the conclusion that if these sites do not belong to the same person, they were built by people following the same business template and even stealing each other's ideas as they did so.
Another interesting thing that I found was that even though the Social Bounty website is barely two months old, it claims to be the "#1 influencer network in the world". In my experience, this is already a big red flag. However, I decided to dig even deeper to find out more. This article is the result of that investigation.
---
WHAT IS SOCIAL BOUNTY?
Social Bounty is a business website that was registered on December 19, 2019. It claims to pay its users up to $500 a day for completing simple tasks.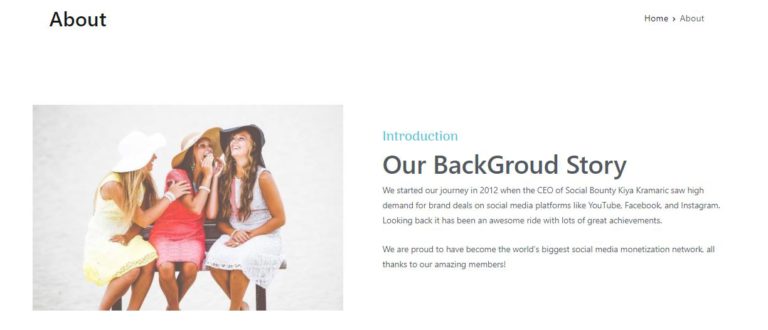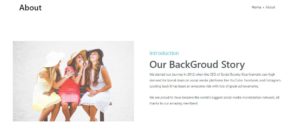 The website claims to pay a ridiculously high amount of money for these simple tasks. For instance, they claim that you will get $30 every time you join a prize competition, and they will pay you $2 every time someone clicks on your affiliate link.
On their home page, Social Bounty claims that they connect users with advertisers.
Right off the bat, we get hit with a ton of red flags. Most of these claims are impossible to implement even if they truly wanted to, which is why nothing that they say on their homepage adds up. 99% of the time they are just straight up lies.
For example, one of the testimonials from a person called Jerome starts by saying that he has been using the website for two years now. But we have already established that the website was only set up in 2019, less than a year ago. There's more.
Kiya Kramaric is listed as the CEO of Social Bounty. The photo he uses is a stock image, which means this is not really the name of the CEO of Social Bounty. It is only a pen name. This is a common tactic that makers of scam products use to remain anonymous and avoid any potential litigation from angry customers.
So far, even before getting into the members area and the products that this company is selling, things are not looking good for Social Bounty. It already sounds like a pretty scammy product.
---
WHAT PRODUCTS DOES SOCIAL BOUNTY OFFER?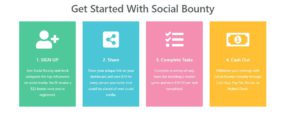 The process of signing up on social bounty is fairly easy and it's completely free. This is not unlike other such sites, because all they want to do is collect your personal information and sell it to third-party marketers. Therefore, do not sign up to this site, or use a fake disposable email.
When you sign up, you'll notice that you make $25 automatically. $25 shows up in your Social Bounty account to get you to stay and perhaps check out what the rest of the site has to offer.
So, what products do they offer? Well, there are four main products in Social Bounty:
Community Chat
Refer and earn
Task wall
Rewards center
Community Chat
The Community Chat is a pretty unique one as not many sites have this feature. However, you should know by now that this feature has only been placed there to boost your confidence in this product as a new member. The chat feature itself does not work, meaning you cannot chat with anyone. You will get a message saying that this feature is under maintenance, but it has been under maintenance for all the months that this product has been live, so this is obviously just another scheme to rip you off.
You'll also notice that there are several inspiring messages on the community chat wall. These messages are meant to show new users that people are earning money through Social Bounty (which is not true). All these messages have been sent using fake accounts and bots.
Refer and earn
This is supposed to be Social Bounty's main attraction. Once you sign up, they will reward you with the $25 mentioned earlier.
You will also get access to your referral links here. To make money, all you have to do is share the referral links with friends through social media including Facebook, Twitter, and YouTube. For every new friend who signs up, you get $10 and $2 for every click on your affiliate link.
The only caveat is that you can only withdraw the money you've made when you hit their minimum withdrawal limit of $250. So, if you are hard-pressed for cash, you can't even withdraw the $25 you were rewarded with when you signed up until you hit the $250 target. But when you do, things will get quite interesting as you will see later on in this review.
Task Wall
Just like in the previous section, you get rewarded handsomely for completing mundane tasks. You will get paid $30 to $50 for a task such as downloading YouTube videos, taking surveys, replying to questionnaires, and so on.
However, there is a catch; you have to provide all your personal information to participate in these simple tasks.
After you've filled out your personal information, you also have to give them your credit card information. Remember when they said this product was free? Well, it's not. There is only a free trial after which you will have to pay a $60 monthly fee that will be automatically deducted from your account every month.
Reward Center
Here Social Bounty says that for every $1 you earn you get 1 SB point. Once you have accumulated enough points you can claim a gift. They have listed some of the gifts users get in comparison with the points they have accumulated. These gifts include smartphones, smartwatches, iPads, and more.
---
WHAT IS THE COST OF JOINING SOCIAL BOUNTY?
The homepage claims that joining Social Bounty is free. However, it is only a free trial and you are required to pay $60 per month to continue using the website.
---
WHO ARE THE FOUNDERS OF SOCIAL BOUNTY?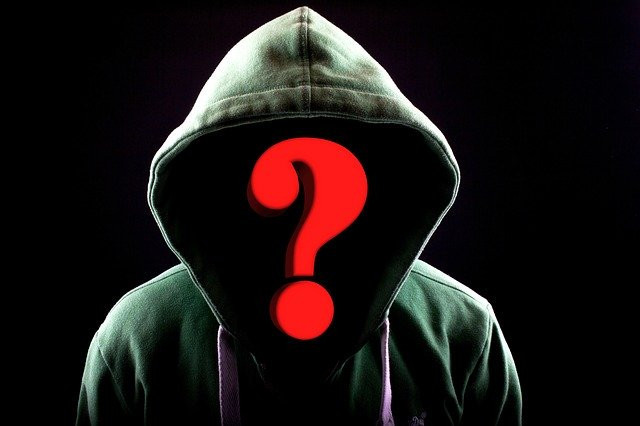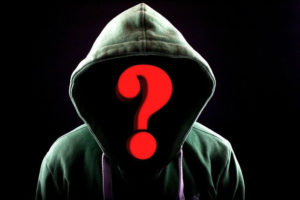 Kiya Kramric, Maria Shimfera, Isitika Rostova, and Maya Zukostia are listed as founders. However, none of the names can be traced anywhere on the internet. In simple terms, these people do not appear to exist. Furthermore, all the images used in the "about" section and testimonials can be traced elsewhere, either on stock photos sites or news websites.
Technically, the founders of social bounty could be a group of scammers who probably have other sites as well. For instance, Kiya Kramric is also listed as the CEO of another suspicious site YouTustar.
The other interesting thing about this website is the parent company which is listed as Social Bounty, PTY, located in Melbourne, Australia. There is no record of such a registered company meaning it's also fake.
The listed physical address also does not exist. They claim that their offices are located on "970 Pine Road, West Deptford, NJ 08096". There is no Pine Road in West Deptford, NJ.
---
SOCIAL BOUNTY COMPENSATION PLAN
As described earlier, there are three ways you can make money through Social bounty. You make your first dollars by signing up. They claim to reward you with $25 for joining their program. You are supposed to make the highest amount of money by performing the easy tasks they'll give you, where you can expect to make $30 to $ 50 for every task you complete.
The affiliate program is also another way to make money with this platform, where you stand to make $10 every time a referral registers and $2 for every click on your referral link. They have links for major social media platforms including Facebook, WhatsApp, Twitter, and YouTube.
Additionally, they have a loyalty program, for every dollar earned you get 1 SB point. Once, you get enough points you can claim one of the many items including iPads, smartwatches, smartphones, and more.
---
PROS OF SOCIAL BOUNTY
The website is easy to navigate and light, arguably better than some legit businesses' websites.
---
CONS OF SOCIAL BOUNTY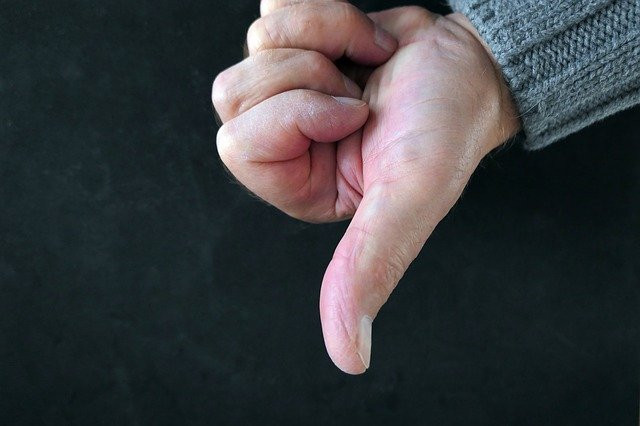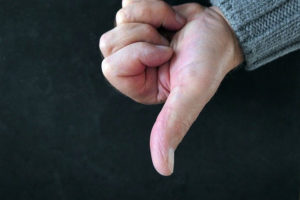 Everything about this program is shady and fake, from the founders to the address to the program itself. The only real thing about this website is the website itself.
It's a data harvesting website. The personal information collected is used to hack people's accounts or resold to third-party marketers or used to con unsuspecting victims.
You should always be cautious of shady founders, but you should run when you find an online program with no founders.
Unrealistic payments for simple tasks; the amount of money they claim to pay for these tasks doesn't make much sense. Such exorbitant amounts raise more questions and are unsustainable.
Fake testimonials: the testimonials are fake which raises doubts on what kind of business this is.
---
ARE THERE ANY GOOD ALTERNATIVES TO SOCIAL BOUNTY?
There is no doubt that social bounty is a major scam. Do not even try to register on this platform because your data will be harvested and only heaven knows what they will do with it.
If you need a great alternative to Social Bounty, one of the best ways to make a regular income online is affiliate marketing. However, do not confuse this with what Social Bounty offers. Social Bounty's affiliate marketing program only seems legit but you'll not make any money with it.
Affiliate marketing when done the right way can be a source of regular passive income that you can always count on. It can give you the financial freedom you crave by making you your own boss and giving you unlimited earning potential. The sky is the limit with this business, and that is why so many people are doing it.
As an affiliate marketer, your job is to market or promote another person's products or services. You do not own any products or services of your own. Instead, you find something you like and recommend it to your audience. When they buy from you, you earn a commission that is paid by the owner of the product you are promoting.
Affiliate marketing is a legit online money-making program. It is extremely popular and almost anyone can find success with it. However, it is a business that takes time and a lot of hard work to build. This is where Wealthy Affiliate comes in.
If you need a little help building up your affiliate marketing business and taking it to the next level, or if you just need a little help getting started, Wealthy Affiliate is the product for you. It is an affiliate marketing program that contains lessons, resources, and a massive affiliate marketing community that is always happy to help each other achieve consistently greater success.
LEARN MORE ABOUT WEALTHY AFFILIATE – CLICK HERE NOW!
Wealthy Affiliate has been designed for both beginners and experienced marketers. You can begin by signing up for the free program, try it out for size and get a feel of what this platform has to offer. If you like what you find, you can upgrade to the premium version and truly supercharge your affiliate marketing business.
---
FINAL THOUGHTS
There are so many red flags with Social Bounty that it is definitely not a legal business. This is clearly a site that is being used to harvest people's data for shady businesses. Sadly, unsuspecting people have already fallen victim to this elaborate scam. If you are reading this, you are probably doing it as part of your due diligence to find out what this program is about before you try it out. My advice to you; do not sign up to this platform. Run!
The site is riddled with fake everything. There are fake founders, fake testimonials, fake money-making opportunities, fake address, the list goes on. It is a business that was started barely two months ago but now claims to be the "#1 influencer network in the world", without any tangible social media presence. They trick people with the promise of quick money only to scam them in the process.
Therefore, stay safe and only look for genuine, tried and tested money-making online opportunities and programs like affiliate marketing with Wealthy Affiliate.
CHECK OUT WEALTHY AFFILIATE – CLICK HERE!
If you decide to give it a shot, I will be there waiting for you!  I can help you navigate some of the hurdles you may encounter and help you get your online business off the ground!
To your success,
Mike Aha
OTHER ARTICLES YOU MAY LIKE:
Can You Make Money Doing Online Surveys?
Affiliate Marketing Training Programs
What Is Wealthy Affiliate University?
How To Start In Affiliate Marketing?