Welcome to my Snowball Traffic Review.
Just like with other conventional business, the goal of working online is to make as much money as possible. There are many tools out there that claim to be able to help you make a considerable side income, but a good number of them turn out to be unreliable or downright rip-offs. Here is a look at Snowball Traffic, one such tool, to help you determine if it will truly help you make considerable profits or just end up wasting your time and money.
---
WHAT IS IT?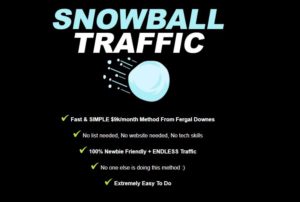 Snowball Traffic is a system by Bill Hugall, Simple Spencer, and Fergal Downes. It claims to be able to help you make $9,000 within 30 days. This is supposedly possible without having to build a list, start a website, or possessing tech skills.
In the sales video, Fergal claims that you will start seeing results within the first 24 hours of using the system whether you are a newbie or have experience in internet marketing. You won't need to create a product, build an email list, or have website hosting to get started using the system.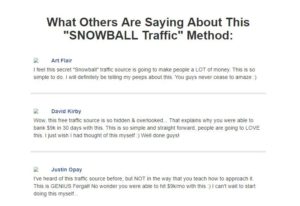 There are several testimonials on the sales page from customers who have supposedly used Snowball Traffic and found immense success as a result. They all heap praises on the system, with one even declaring that it was worth ten times than what is being charged.
Some of the features that you can expect to find once you start using the system include:
A detailed overview of the Snowball Traffic method and what it entails.
Step-by-step training on how to get started using the system and consequently earn profits within 24-48 hours.
DFY tools and resources that will make the whole process easier.
How to set up your own Snowball Traffic campaign and start pulling in traffic.
You won't need to use SEO or blogging methods to pull in potential customers.
The bonuses that are included are as follows:
Bonus 1 – the 24-hour "quick start" formula
This bonus is valued at $97. This formula will show you how to get 400-600 people within the first 24 hours. This is beneficial for those who want to earn profits as soon as possible.
Bonus 2 – ST automation software
This automation software is valued at $197 and is beneficial for those that want to earn a passive income.
CLICK HERE FOR MY #1 RECOMMENDED AFFILIATE MARKETING TRAINING PROGRAM
---
HOW DOES IT WORK?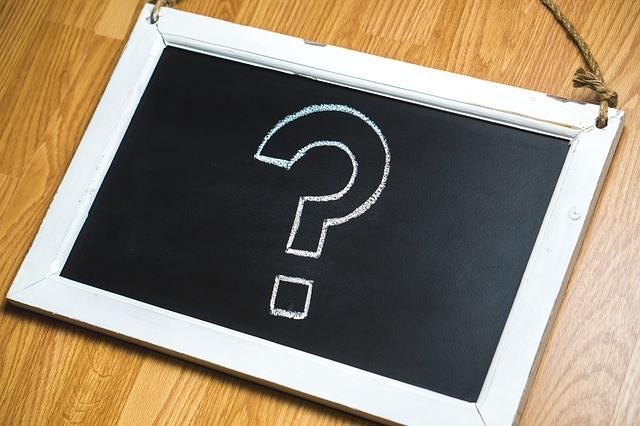 Inside the member's area, you will find several videos that are supposed to take you through the training on how to make use of Facebook groups in promoting your offers:
Overview
This video takes you through a quick overview of the Snowball Traffic system where Fergal briefly explains the basics of building Facebook groups and monetizing them.
Snowball Traffic Niches
It is important to select the right niche when implementing this system. Some of the most profitable suggested niches include health, wealth, and relationships. This video goes over examples of groups and how they are run.
Setting Up Your Snowball Group
This video guides you through the process of creating your group and consequently preparing graphics and content for the group. You don't have to do the graphics on your own as you can seek services from Fiverr.
The Pinned Post
A pinned post is the post that you can see when you first visit a group that for instance gives you a look at the rules of the group, or an introduction or a welcome that briefly explains what the group is all about. This video explains how to create a pinned post and what your message should be once you have one. Make use of the pinned post to highlight your offer and take advantage of being able to select all posts rather than being limited to default highlights.
The Group Description
This video gives guidelines on how to write a description for the group that you create. For the description to stand out, you are required to use keywords.
The Group Settings
This video takes you through the setting that you are required to have on your newly created group.
How to Get 400-600 Group Members on Day 1 (part one and two)
This step involves how to use Instagram influencers to help you attract new members to your group at a cost.
Software That Runs Your Group on Autopilot
This video discusses a software known as Buffer that schedules your posts inside your group so that you can run it hands-free. The software is estimated to cost you 15 dollars per month.
Getting Viral Content For Your Group to Build Massive Engagement
You will want your group to be full of quality content and the members to be as engaged as possible. Use Buzzsumo to find content that you can use for your niche. This will cost a minimum of $79 per month, but Fergal suggests saving some money by finding a gig on Fiverr that will cost you $25.
Outsource Everything for $5
This video goes over how you can outsource various tasks that are involved in running the group on Fiverr. This will cost you $5.
Facebook Live for Engagement
It is recommended that you create videos to increase the engagement you have with the members.
Profitable Secrets for Engagement
This is on how to create engaging posts that can be monetized. Fergal gives an example of the "ask me Monday" technique he uses where people ask him a variety of questions that are related to the make money online niche.
Time to Make Money (part one and two)
This is on what you need to promote to earn profits as an affiliate as well as where to find the products.
---
PRICING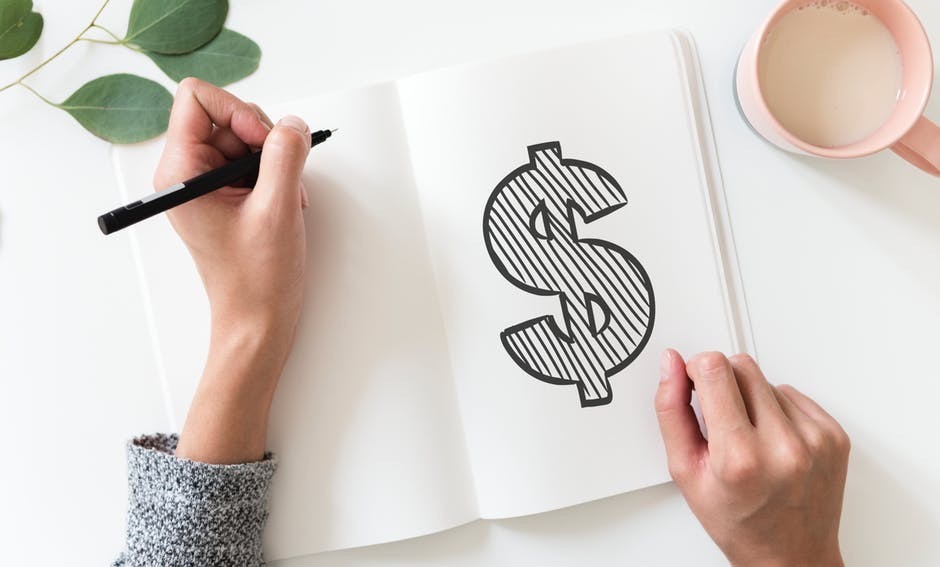 The front-end price of the product is $7.97. In addition to the initial product, there are five upsells that you can opt to buy:
Upsell 1 – Fergal's Done-For-You Pack With Case Studies ($27)
This upsell comprises of 5 DFY campaign templates that are claimed to be exactly what Fergal uses. You are encouraged to copy and paste these templates into your campaigns. If you opt to ignore this upsell, there is a down sell to $17.
Upsell 2 – Super Simple $300/Day Method ($17)
You can use this product alongside the front-end product and supposedly earn an additional $200-$300 per day. If you decline to buy into this upsell, you are offered a downsell of the same product for $12.
Upsell 3 – Snowball Traffic Resale Rights ($37)
The third upsell allows you to use and sell the entire Snowball Traffic funnel and earn 100% commission. This upsell also comprises of customer support, all the promo/sales material, and updating the product. All you will have to do is drive the traffic. There is a $27 downsell if you decide not to go for this upsell.
Upsell 4 – How to Bank Insane 5-Figure Days ($27)
There is not much information provided on how you will earn the five figures, but it is claimed that there are only a few spots left. When you turn down this upsell, there is a downsell of $17.
Upsell 5 – Simple Buyers List Building ($12)
This last upsell is a course that takes you through the basics of building a buyers list without having to create or launch a product of your own. Declining this upsell will redirect you to a downsell page where you are offered the same product for $7.
If Snowball Traffic turns out to be unsatisfactory, you can rely on the 30-day money-back guarantee that allows unhappy customers to ask for a refund on their purchase within the allocated period.
---
PROS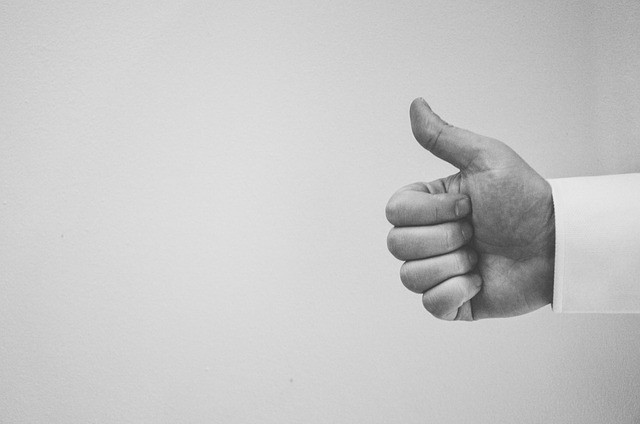 The front-end product is affordable
The initial price of the product is $7.97, which is quite reasonable. For this price, you gain access to the members' area and the training videos that you need to get started.
Some useful information provided
If you have no experience of using Facebook groups to earn some money on the side, there is quite a bit of information that you will find useful in the training provided. Keep in mind that what is provided is basic information, and if you have more experienced, you may not have much use for this system.
Presented in the form of videos
The training videos provided in the members' area are easy to follow. Information provided in the form of videos is often easier to grasp as compared to the training provided through e-books.
Snowball Traffic comes with a 30-day risk-free guarantee. This simply means that you can return the product and ask for a refund if the results you get from using the product are unsatisfactory. To qualify for a refund, ensure that you send an email to the Snowball Traffic support team within the first 30 days of purchasing the product.
CONS
There are several upsells
There are five upsells in total. Although it is not necessary to buy these additional products, you might feel the pressure to purchase them as they come with the promise of faster and higher earnings. As a result, your investment in Snowball Traffic could end up being higher than expected.
Once you have completed the training provided in the members' area, you will realize that you have to invest some money in buying ads to be able to build up an audience that you can interact with. You are also encouraged to pay $15 per a month for a software that will run your Facebook on autopilot, and either $79 per month on Buzzsumo or $25 on Fiverr to find content for your group.
Hyped up claims on the sales page and video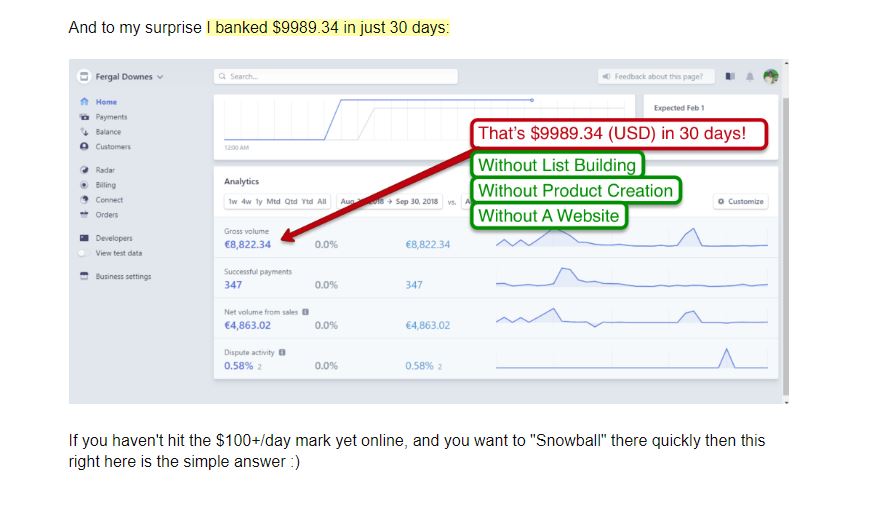 Snowball Traffic is hailed as a $9,000 per month system on its sales page and described as fun and highly profitable. These are very exaggerated figures that are meant to attract more people into buying the product. In reality, it will take a lot of hard work on your part as well as online marketing skills to be able to earn considerable profits using this product.
This is not a new and innovative strategy
The Snowball Traffic method is presented as if it is a completely new and unique strategy of earning money online when in reality it has been done before. As a result, many other people are using this strategy, which means that you should be prepared to encounter a lot of competition. Additionally, some resources that offer the same services that may not be as costly.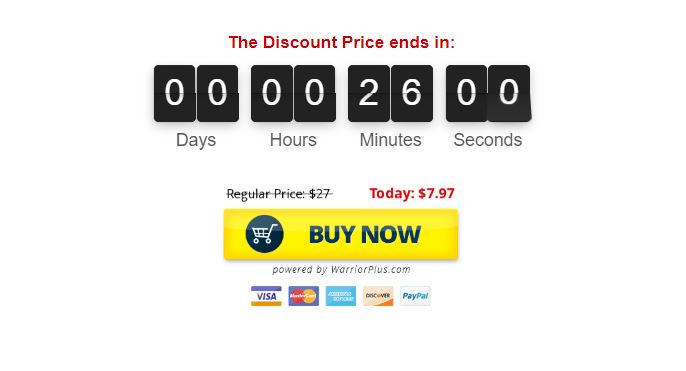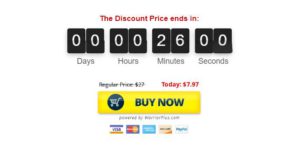 On the sales page, there is a timer counting down to when the discount price ($7.97) will end. This is only meant to rush you into purchasing the product, and when you reload the page, the timer is reset. It is also claimed that there are limited spots left for those who want to buy into the product, but this is just another scarcity tactic as well.
The video leaves out details on some crucial aspects
The training videos fail to inform you that you might need to examine the products you intend to promote to ensure that they are of good enough for customers to potentially purchase. Additionally, there is no guidance on how to deal with your Virtual Assistant (the person you hire from Fiverr) which can be daunting if you have no experience in the area.
There is no guarantee that you will make money this way
Although you are led to believe that your success using the product is guaranteed, the disclaimer states otherwise. According to the disclaimer, there is no guarantee that there is any money to be made from using or promoting the product.
---
VERDICT
Snowball Traffic provides you with a genuine way of making money online, and there is potential if you are willing to put in the time, money, and effort. However, with recent changes at Facebook, making money with FB Groups is likely to become very challenging.  There are certainly many resources online that are free or much less expensive (not so many upsells). I am not a fan of the sales tactics used to push this product either.  Having said that, I cannot say that this product is a scam or a total waste of your money.  I am just not convinced that it is the best way to make money online.
---
WHAT IS BETTER THAN SNOWBALL TRAFFIC?
I believe that Affiliate Marketing is the absolute best way of creating a lasting and solid business online.  It is the method that has been used by most successful online entrepreneurs because it provides the best chances of success with almost unlimited income potential.  As an affiliate marketer, you promote excellent products to your audience and get paid a commission for doing so.  It is that simple.  No inventory, no shipping and no customer service headaches.  I don't want to make is sound like a get-rich-quick scheme because it is far from that.  It requires hard work, knowledge and perseverance.  If you are willing to put in the hard work and the perseverance, I can help you with the knowledge you need to succeed.
CLICK HERE FOR MY #1 RECOMMENDED AFFILIATE MARKETING TRAINING PROGRAM!
I hope you found this review helpful.  Please leave me your questions or comments in the section below and I will get back to you ASAP!
To your success,
Mike Aha