As more people gain easy access to the internet, opportunities to work online have also increased. Currently, there are a variety of ways you can earn an income online, with some strategies offering more money than others. Taking online surveys and getting paid as a result is undoubtedly a compelling offer – essentially, you are getting paid to give your opinion. However, many paid survey sites have a controversial reputation, with complaints being raised every other day by users who feel that they fall short on their promises. Here is a look at Offernation, a survey site, to determine if it is worth checking out. Let's move on with my Offernation review!
---
WHAT IS OFFERNATION?

Offernation is a (GPT) Get Paid To site that allows you to earn money online by completing a variety of tasks, including taking surveys, signing up for offers, making referrals, and clicking ads, to mention a few. Offernation is under the ownership of 99 Ventures, a company that is behind other GPT sites such as Superpay.me and RewardingWays.
---
HOW DOES IT WORK?
Virtually anyone can sign up to join Offernation as it is available in countries all over the world. The only condition is that you have to be over 18 years to take part in the surveys. Signing up is free, and you will be required to provide details such as:
Name
Username
Password
Email
Address
City
Country
State
Zip/postal code
PayPal email
Payza email
Skrill email
This information is important as it is used to verify your country of residence as well as match surveys and offers that are best suited for your demographic. It might be tempting to say that you live within the United States (even if you live elsewhere), since most of the surveys and offers are sent in by clients who are within the US, but they have ways of detecting this, even if you use a VPN service to switch your Internet ISP connection from one country to another. If you do this, your account will be marked as "cheater" and you won't be able to access what Offernation offers. Here are other reasons why your account can get marked as "cheater":
You attempt to sign up using multiple accounts
You opt to use a known cheater PROXY IP address or a range of IP addresses
You fail the telephone verification process
You use the OPERA web browser, which is not compatible with the Offernation website. Any user that signs up with the browser will automatically be marked as a cheater.
You use a satellite or mobile internet connection, which also don't work with the Offernation website
You use an anonymous IP address.
Your account fails to pass one of the site security checks
After you successfully sign up, you will receive a $0.25 which is a signup bonus.
There are several ways through which you can make with Offernation:
Online paid surveys
Paid surveys are one of the main ways that you can make money on Offernation, plus they offer higher payouts. When you click on the "make money" tab that you will find on the menu, you will be presented with a list of different portals where you can take surveys. Here are the types of surveys that you are likely to come across: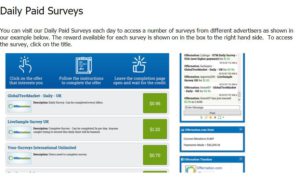 When you select Daily Paid Surveys, you can access a variety of surveys from different advertisers that are posted daily. To participate in a survey, click on a title. You can also view the rewards provided for each survey.
To ensure that you qualify, you will be required to answer a few questions so that you can be matched to a suitable survey. Once you have been accepted, ensure that you answer all the questions you are presented with on the survey that you opt to take truthfully and provide accurate information.
Once you complete the survey, you are required to leave the completed page open for a couple of minutes to speed up the crediting process. Once the advertisers have successfully traced and confirmed a completed page, a credit will be sent to your Offernation account.
Some of the surveys that you will find in this section are unlimited or can be done several times daily, so you might be able to increase your online earnings.
The live paid surveys section of Offernation can be refreshed throughout the day to view new surveys. Before you get started in this section, you will be required to complete your profile first. You will then be shown surveys that go hand-in-hand with the information that you provided.
Live paid surveys generally tend to offer higher payments. Keep in mind that crediting for some of the surveys in this category can take up to two weeks. The reward that you receive is displayed next to each survey.
Tap surveys provide you with a variety of surveys that you can complete daily. Payment for these surveys ranges anywhere from $0.20 to $6.00. Longer surveys will generally pay more.
Revenuewall free paid surveys
These are quick daily surveys that can pay anywhere from $0.20 to $4.50.
Say So for Good paid surveys
These are a variety of surveys that are updated regularly, with each survey having a separate reward ranging from $1 – $4.
These are surveys that are available to members from all over the world, with some that can be completed daily.
Completing offers
There are a variety of offerwalls that you can complete. An offerwall is simple a GPT platform found within Offernation. If you want to earn under this category, go to the "offerwalls" tab that you will find at the top of the dashboard. Once you complete an offer, you are paid in awards rather than cash, but you can opt to have your points converted into cash. Offernation works with a wide selection of popular offerwalls available like Peanutlabs, Adgate, Persona.ly, and Trialpay, to mention a few. These are third-party platforms that come with their surveys and tasks.
Some of the offers in this category come with very good rewards but ensure that you go through the terms and conditions as you might be required to provide your credit card information. Many offers require that you keep your subscription until the end of your free trial. This means that you will start paying for the service at least one month before you can claim your points.
Referral program
Another way you can earn with Offernation is by inviting friends and family to join using a unique referral link that you send to them. Every time that someone you directly refer completes an offer, you will eligible to receive a 25% commission for life. So, for instance, if your referral earns $10, you will receive $2.5. This may sound like an easy way to increase your earnings, but you will need to recruit a huge number of people and continuously use the Offernation platform if you want to make any significant money through this strategy.
Get paid to click
As you are navigating the Offernation dashboard, you will come across a section with PTC (paid to click) ads which allow you to get paid when you click and watch them for anywhere between 10-30 seconds. The rewards for this category are very low, with some ads paying as low as $0.0009. You might find some ads that pay slightly better, but on average, there is still not much money to be made this way.
Get paid to search
With this earning method, you get paid to search with the Offernation website. The earning potential is very low, with the highest amount for each search that you do being $0.018. You are provided with specific keywords that you are expected to use when conducting searches to get rewarded.
Promo codes
Once in a while, Offernation posts promo codes on its Twitter or Facebook page. This is not a reliable way to make money with the platform as these promo codes are few and very far between.
Contests
Everyone that signs up to be a member of Offernation is automatically entered into a cash contest where the price is $1,000. The top 20 members that earn the highest amounts get to share this price, with the top earner receiving $350.
---
HOW DO YOU GET PAID ON OFFERNATION?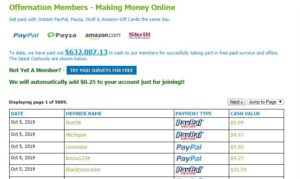 When you complete tasks and surveys on Offernation, you are either paid in cash or points. For cash payments, you can receive your earnings through Skrill, Payza, PayPal, or in the form of Bitcoins. The minimum payout threshold is quite low – for Skrill and PayPal you are required to have made just $1 to cash out, while for Payza you need to have $10.
The points that you earn can be directed towards Amazon gift cards. The payout threshold for points is $5 (500 points). This option is available only after you have received a minimum of one cash payment.
Alternatively, you can also convert your points into cash if that is what you prefer. To do this, go to the "withdraw" section and look for the "convert" button. Typically, you get 1 cent for 1 point.
---
PROS
The payout threshold is low
The minimum threshold on Offernation is $1, which means that you are allowed to cash out as you soon as you accumulate just $1 in your account
Offernation is available worldwide
Offernation is available all over the world for those interested in taking surveys and complete tasks.
You are not required to pay any fee to become a member of Offernation. Instead, you are offered a bonus for joining.
You can receive payments through PayPal
PayPal is one of the most popular online payment systems, which is why it is quite impressive that it is one of the ways through which you can cash out on Offernation.
There are a variety of ways through which you can earn
You are provided with a variety of surveys that you can take as well as different tasks that you can complete on the site.
---
CONS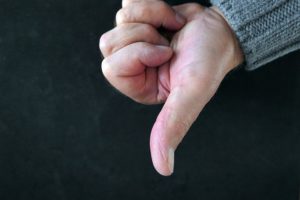 There is not much money to be made with many of the tasks that are offered on Offernation, so don't set your sights too high when it comes to your earnings.
It is not always guaranteed that you will qualify for surveys
You may invest a lot of time answering pre-qualifying questions for a survey only to be informed that you do not qualify to take it.
It is not optimized for use on mobile devices
Offernation does not provide an app for mobile users, but you can still access it on your mobile by going to your browser and visiting the website. However, because it is not well optimized for use on mobile devices, it is harder to navigate when you try to use it on a phone. You are better off sticking to PCs or tablets.
Surveys are typically geographically targeted
A majority of the tasks and surveys are geographically targeted, with most of them specifically made for residents of the USA, Canada, the UK, Spain, Australia, and Italy. As a result, if you are from another country, you have limited options.
There is no indication on the time taken to complete a survey
You are not informed of how long a survey will take for your o complete it before you decide to tackle it. This limits your ability to approximate how much you will earn by completing a given survey.
---
VERDICT
Offernation is a genuine site that can allow you to earn a bit of money on the side, but it can't be relied on for any meaningful income as the payout is considerably low. That said, earnings will generally vary depending on your location and the number of surveys and tasks that you complete.  I have many recommendations on different ways to make extra money.  Surveys are just one of the ways to do so!
Check out my Top recommendations for Survey Sites!
---
WHAT IS BETTER THAN OFFERNATION?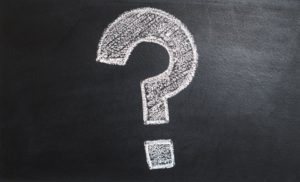 Survey Sites like the ones I recommend are a proven way to make a little extra cash.  In fact, I have a
full list of ways you can make extra cash
for incidental expenses.  But if you are looking to secure your financial future , you need more.  You need a model that will allow you to create and grow your own business from the comfort of your own home.
My chosen way to build my family's financial security is through Affiliate Marketing. It is a business model that can be grown little by little, on your own time.  If done right, it has the potential to make you life altering income!
The beauty of affiliate marketing is that it requires no inventory, to shipping and no customer service interactions.  It also requires very little money to get started. All you need is a domain and hosting!
HERE IS MY TOP RECOMMENDED AFFILIATE MARKETING TRAINING – FREE
Click on the link above and let's chat on the other side.  It would be my pleasure to help you through this new journey!
To your success,
Mike Aha