Welcome to my prosperity nexus group review!
With online jobs becoming more commonplace, it has become harder to discern the genuine opportunities from the ones that want to scam you out of your hard-earned money. If you have ever tried to earn an income online, chances are that you might have come across a variety of tools that promise to help you increase your earnings, with some being more reliable than others. Here is an honest look at Property Nexus Group, one such tool, to help you decide if it is worth investing your time and money in.
---
WHAT IS PROSPERITY NEXUS GROUP?
Prosperity Nexus Group (PNG) is a product that was co-founded by Michael Wright and Steve Hawk in 2014. According to the PNG website, the business is described as a "mastermind marketing group" that focuses on marketing high-ticket offers. The PNG has put together a system that allows you to simply just plugin to begin earning commissions. You can become part of the PNG team at five different levels, with the cost of joining ranging from $2,000 to $22,500. You also have the option to sell the system to interested customers and earn a 100% commission.
---
VIDEO REVIEW
In the sales video, Steve and Michael introduce themselves and give their job experiences, with both of them crediting themselves as entrepreneurs and high-ticket top earners. Michael takes over, explaining that they help create lifestyle entrepreneurs, which he defines as entrepreneurs who work online and design their business around their lifestyle. With the PNG plan, he promises that you will work on your terms (10-20 hours a week) and make two sales per month with the help of their system and support to earn commissions ranging from $4,000-$10,000 per month.
According to the speaker, there are five membership and commission options. It is noted that if you purchase a membership and one of the product packages, you will also be buying the legal resale license, allowing you to sell the product as your own. The membership options and commission payouts are given as follows:
A basic membership pays out $2,000 in commissions.
A builder membership pays out $2,000 and $3,500 commissions.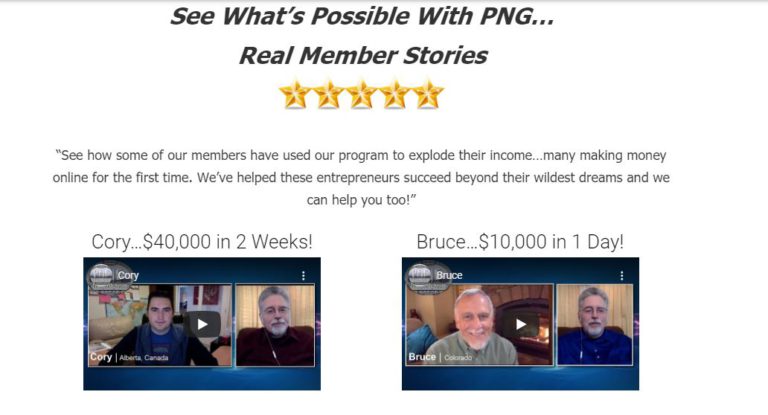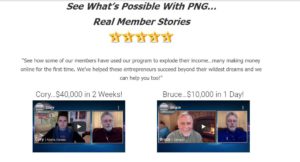 An advanced membership pays out $2,000, $3,500, and $6,500 commissions.
A pro membership pays out $2,000, $3,500, $6,500, and $12,500 commissions.
A VIP membership pays out $2,000, $3,500, $6,500, $12,500, and $22,000 commissions.
There are two ways you can make money:
The product sales approach
This is where you retail the training products and the team training to people that want to learn how to go about marketing and making money online with a home-based business.
The recruiting/business building approach
This is the main approach that PNG uses, where you are the CEO of your sales organization. You are tasked with finding people who intend to make more money, and then sell them one of the PNG membership options and guide them on how to do the same.
Each of the five memberships comes with a bundled package of digital information e-courses as well as the legal license to resell them along with the membership. The PNG digital library is made up of multiple eLearning courses (audios and videos0 that cover a variety of popular educational topics such as internet marketing, social media, and personal development.
There are four ways you can get paid:
Direct Sales
When you make a personal sale, you receive a 100% commission directly from your new member.
Qualification/Training Sales
Every new member that you sign up is required to pass up their first sale to you. This creates a passive potentially perpetual income stream of override commissions.
Roll Up Sales
Members can earn commissions up to the membership level that they own. If a sale is made for a higher membership level than is owned, the overage will be rolled up to the next member who qualifies to earn at a higher level.
Upgrade Sales
A member always has the option to upgrade from a lower membership level to a higher one. To do this, they are required to pay the difference between the membership that they own and the membership that they intend to upgrade to.
The PNG sales process is broken down into three steps:
Lead generation.
An automated sales system that educates your prospects via webinars or websites.
Q & A call with a VIP team leader who will answer any questions that your prospects might have in addition to helping you close your sales.
When it comes to advertising your business, PNG provides you with low-cost ad strategies that supposedly still produce high-quality leads. According to the speaker, on average, ten quality leads should produce an average of one sale through the PNG sales funnel. Some of the suggested strategies you can use to advertise include:
Online classified campaigns, with Craigslist being one of them.
A proprietary team lead store
Solo ad/email campaigns
Magazine/newspaper ads
Postcards
Social media
Pay per Click
---
HOW DOES IT WORK?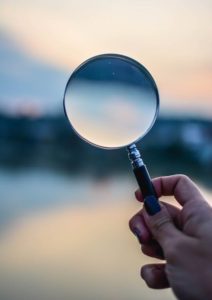 When you sign up for an account with PNG, it will be registered under TiDom, which is the PNG marketing team. Because PNG is in the digital e-learning niche, each of the membership options comes with a package of digital e-learning courses. For instance, under the basic membership, you will find the following titles:
Marketing Modules (20 videos)
Learn the mechanics of launching a successful online business. Topics covered include copywriting, conversion rates, sales videos, upsells, down sells, and many more.
Social Traffic Modules (7 videos)
Learn how to manage and automate your social media presence as well as how to spot opportunities within your niche to grow your business.
Make Money in 5 minutes (3 videos)
Learn how to make easy and fast money using Fiverr.
List Building Basics (10 videos)
Let a list building guru guide you through his beginner course.
YouTube Editor (8 videos)
Learn how to edit your marketing videos for free using YouTube Editor.
Under the builder membership, you will find the following:
Google Keywords (9 videos)
Use the Google Keyword Planner to access the Google traffic base, research keywords, and market demand. The training includes introduction to keyword planner, keyword/ad group ideas, traffic estimates, types of searches, and more.
Motivational Series (20 audios)
A series of motivational audios covering a variety of topics.
Learn how to earn profits with your niche blog.
Learn about solo ads and ad swaps
These videos cover topics on list building and video marketing.
LEARN AFFILIATE MARKETING THE RIGHT WAY!  IT'S FREE!
Under the advanced membership, you will find the following topics:
Facebook Traffic (9 videos)
Find strategies you can use to drive traffic with Facebook ads and increase your conversions at the same time. The training includes getting introduced to Facebook ads, the types of ads you can use to achieve your objective, the cost of campaigns and how to go about budgeting, and how to get the best ad conversions, among others.
Traffic Modules (25 videos)
Training here includes PPC ads, forum marketing, blogging, directory submissions, article submissions, social bookmarking, video marketing, and much more.
Master WordPress (40 videos)
Explore WordPress and all that it has to offer.
Hash Tag Traffic (9 videos)
Learn how to find trending hashtags and how to use them to generate highly-targeted Facebook and Twitter traffic.
Lead Magnet Blueprint (9 videos)
Learn how to create lead magnets that are highly converting.
Under pro membership, you will find:
List Building Guide (12 videos)
Find a simple and cost-effective way to build a sizable list for your business.
Paid Traffic Sources (3 videos)
Discover new traffic sources that will help you generate more traffic to your site.
Sales Funnel Blueprint (9 videos)
Learn how to create a sales funnel that will help you find premium buyers and allow you to build a high converting list.
Under VIP membership, you will find:
Video Sales Letters (9 videos)
Create video sales letters with the PNG strategy to boost sales.
Social Bookmarking (11 videos)
Increase social traffic inflow and get a higher ranking of your website by using social bookmarking.
Email Copy that Converts (10 videos)
Use the same email tactics that will get more clicks when you send them out to your subscribers.
Keep in mind that learning this information is optional as PNG focuses on training you how to make money with their system and sell it to others.
---
PRICING
As previously mentioned, there are five membership options you can choose from:
Basic membership which costs $2,000
Builder membership which costs $3,500
Advanced membership which costs $6,500
Pro membership which costs $12,500
VIP membership which costs $22,000
Once you select a membership, the next step is to join the PNG team. As a team member, you are required to pay $74.95 for the first month, and then $24.95 for each subsequent month.
---
PROS
You are provided with some useful information on how to go about online marketing
If you choose to buy one of the packages, you will find quite a bit of information on online marketing is included. This could give you an advantage when it comes to navigating this niche type.
---
CONS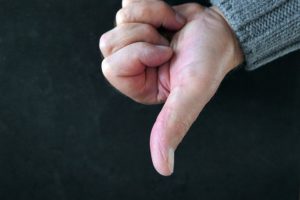 The products are very expensive
The product packages are highly-priced, with the cheapest one costing $2,000, and the one that encompasses all the benefits is sold at $22,000. This is a very steep investment to make and is certainly not affordable for everyone.
You might feel the need to buy at the highest to receive the highest commissions
You might be tempted to for the VIP packages as it comes with the promise of earning the highest commissions, yet it is also the most expensive. Of course, this is a sales tactic used by PNG vendors to get more prospective buyers to go for this overpriced package.
You are required to recruit new members
As a PNG member, you are required to bring in new members who will purchase a package as well. This is a difficult task, especially when you consider the fact that the person you recruit has to know exactly what they are doing so that you can continue earning steady commissions. Additionally, because of the costly packages, you may have a hard time convincing others to buy them.
There is a possibility you will lose your money when you invest in PNG
There is no guarantee that you will make money working with PNG. There is always the possibility that you might not generate enough traffic to your site or fail to bring in prospective members, all of which will negatively impact your earnings.
There is no money-back guarantee
You are not provided with a money-back guarantee that you can rely on in case you try out the product and it doesn't give you the results that you are expecting. A money-back guarantee is always a nice assurance in case you find that you want to return a product upon purchase.
---
VERDICT
Prosperity Nexus Group can be considered to be a genuine system as you are provided with products that you can put to use to some extent. However, the business model is complex, and the packages are very expensive, among other downfalls. I would recommend doing a bit of your research to find how you can make money online without having to spend too much on a system that could result in losses. I would like to recommend an alternative to this expensive program!
---
WHAT IS BETTER THAN PROSPERITY NEXUS GROUP?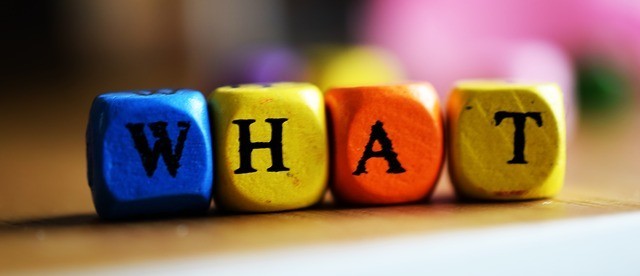 PNG follows a proven business model called
Affiliate Marketing
.  They absolutely got that part right!  I am a huge fan of this business model because it is one of the most likely avenues to successfully make money online.
Affiliate marketing requires very little money up front.  It does not need any inventory and does not require shipping or storing.  It does require patience and hard work.  It is not a get-rich-quick scheme despite what many gurus would have you believe.
If you can bring patience and hard work, I can help you with the knowledge and tools you will need to finally reach your financial goals.  You can finally have your own online business and not worry about the economy, a boss that does not care and a company that sees you as just another number!
CHECK OUT MY TOP RECOMMENDED ONLINE TRAINING – IT IS FREE TO START!
I hope to see you on the other side, where I will be waiting to help you every step of the way!
To your success,
Mike Aha