For many people, their entire lives revolve around the jobs they have. This means waking up every day to head out to a 9 to 5 job that they probably hate, working for someone else and getting paid a fixed salary at the end of the month for their time. If they play their cards right, perhaps there is a promotion or a slight salary increase at the end of the year. If they do something wrong, or sometimes for reasons completely out of their control, they'll get fired and left out on the street, searching for a new job so they can start the cycle all over again. Before they know it, it is 20 years down the line and they have nothing to show for spending the best years of their life behind a desk.
Does all this sound scary? Well, this is the reality of the rat race, and almost 90% of the world is trapped in it. Wake up, go to work, go home, sleep, repeat. Over and over and over until you retire or die.
What if you could earn money doing what you love? The good news is that there is a way out. There is a different way to do things. While the rat race typically means zero work-life balance, zero independence and tons of work dissatisfaction, you can enjoy spending your time with family and friends and pursuing the things that you actually enjoy doing.
So how can you do this? Simple: turn your hobby into your main source of income.  Turning your hobby into a source of income is the ultimate key to work independence and satisfaction. Because in the end, what you are doing is getting paid to do something you love. Even if you were not getting paid, you would still be enjoying doing it.  Of course, the goal here is to make money so let's dive a little deeper.
Here are some ways people make money from their hobbies and passions:
---
WRITING
As long as the internet exists, there will be need for written content. Websites have now become the lifelines of businesses all over the world. And for these businesses to be discovered, they need web content to drive traffic. So as more and more businesses get established, there are more and more opportunities for writers.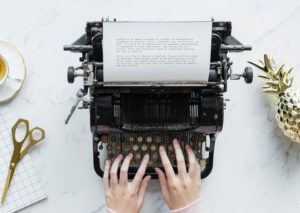 A convenient way to get started with getting paid to write online is by signing up to a content mill or writing platform. There are hundreds of these all over the web. You will then be able to quickly build a portfolio of clients, and if you are really good, your clientele can go beyond content mills.
Consider setting up a blog or a website to showcase your work, then pitch to clients. Most businesses are usually happy to add freelance writers to their teams. Just make sure to pick a niche and roll with it to the end.
For instance, you can choose to be a speechwriter, where writing persuasively about policies and principles, even those that you don't agree with, is the key to success. Written speech clients are not only politicians and government but also business executives, public relation firms, among others.
You might also opt to be a travel writer, especially if you are creative, adventurous, and love to travel. If you are short on cash, you can use guidebooks, magazine and travel articles to get your content.
The list is endless. If done right, writing can be a fantastic way of making money doing what you love.
---
MAKING VIDEOS
If you prefer video over text, there is still opportunity to make money off your craft. You can take advantage of your video creation and editing skills and make good money doing what you love.
Sites like YouTube have now made it possible for the average person to earn a steady income online making videos. Again, the key is niching down. There is a wide variety of videos you can choose from. Whether you make gaming videos, how-to videos, or funny videos, your audience awaits you on YouTube.
You can take things even further and upgrade your skills enough to become a film editor. If you are good at what you do, film editing is a great job that is in very high demand and pays really well. This makes it a great way to earn money doing what you love.
---
FIXING COMPUTERS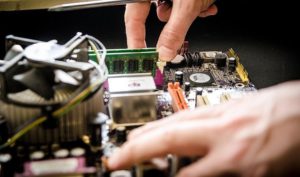 The average Joe is scared of opening up their computer and touching the wrong wire. If you like opening up computers, your skill provides a great opportunity to earn money doing what you love.
Do it as a business and you may be surprised at how well it turns out. Start local with your neighbor's computer, then post your services on local and online platforms to expand your exposure. As a complete beginner, consider starting off by offering your service at a lower rate than your competitors to attract customers.
---
SELLING ART
If you are into art, make money by selling the paintings and drawings you have been doing in your free time. You can make even more money by selling prints of your original artwork.
You can opt to sell your high-quality prints yourself or use a site that allows you to sell your prints online through them for a small commission in exchange. There are hundreds of these on the web. By doing this, it opens an opportunity for fans who cannot reach the original piece.
As a complete beginner, consider attending art workshops to learn more about the trade. It is a great way to get exposure and experience. On the other hand, if you are more experienced and just like engaging with students, you could lead workshops and share your skills for a profit.
---
PHOTOGRAPHY
This one has endless opportunities. In today's shifting business landscape, every business wants to brand itself and portray itself in the best possible way. This often mean advertising, and ads need photos. You want to be the person taking the shots for their banners and websites.
Event photography is a great way to make money as a photographer. The amount you charge depends on your reputation, location and time of year. Finding clients is easier now that we have the internet. Create an impressive photography portfolio website and expose yourself for weddings, birthdays, or company events.
You can also sell your work (digital or printed) simply because everybody loves beautiful photography. Set up a blog on your photography website and reach your audience of photography lovers. You could sell your photographs to magazines too and enjoy the associated bragging rights, along with the great pay.
---
ANIMAL CARE
Animal lovers can make good money taking care of other people's pets. Take people's dogs out for walks, take the pets to the vet for them, watch over the pets when the owners are not around and other animal care routines. This could even land you a six-figure job as a professional dog walker.
If you like making pets look good, grooming might just be your thing. Be a groomer and enjoy making pets look their best while making your wallet look even better. Most of the training takes place on the job but you can also choose to learn at a grooming school. If you plan on working in a zoo, you might consider getting a bachelor's degree in animal science or a similar field first.
Starting is pretty simple. Start small in your neighborhood or with your friends and family. Just get the word out and let people know the services you are offering. Post this on local boards and get more exposure on animal care service sites.
---
PROFESSIONAL GAMING
If you always beat every game you play, you can monetize this skill. Gaming is fast becoming a very profitable industry. Today, you can sell gaming accounts on eBay or player to player peer platforms. You can also dispose your old video games on the internet and earn some money doing it. If you have a YouTube channel, make videos on gaming tips and tricks and share them with your audience.
If you can make pro, professional gaming will earn you big money from participation of gaming competitions held by video game manufacturers such as EA Sports, and Gameloft.
Here is an article I wrote about making money playing video games
---
AFFILIATE MARKETING
Affiliate marketing is a business model that allows you to earn a commission by promoting other people's products or services. As an affiliate, you do not have any products or services of your own. Instead, you find a product you like, promote it to others and earn a piece of the profit for each sale you make.
Affiliate marketing involves 4 parties: the merchant, the network, the publisher and the customer.
The Merchant is the party that creates the product. Also called the seller, the vendor, the creator, the brand or retailer, it can be a big company or a single individual. The merchant does not have to be actively involved. They just need to have the product.
The Publisher is the Affiliate. This party can also be a single individual or a company. They earn a commission for promoting the merchant's products. This is the party that markets the product. They convince potential customers of the value of the merchant's product. Affiliate marketers use different ways to convince the customer on buying the product. The most common being running a review blog for the product and use of an entire site to promote a product.
A word of wisdom.  If you want to be a successful affiliate marketer, you must absolutely resist the urge to promote just any product in order to make a buck.  I am an affiliate marketer and I only promote products that I know and trust.  I absolutely believe that the products I promote to my readers are the best ones in the market!  I believe that what I promote will help my readers get to where they want to get.
The Network is the next party in the Affiliate marketing chain.  It is not always considered as part of the affiliate marketing system. This is however the party that links the merchant and the affiliates. The network deals with the payment and product delivery. They also serve as a database for lots of products from which the affiliate marketer chooses which to promote.
Amazon has by far been the largest affiliate network. Amazon's Affiliates program allows you to promote any product sold on the platform. You earn commission if someone buys a product using your affiliate link.
The Customer or consumer is the most important party to all the other three parties. Without sales, there is no commission or revenue to share.  If you follow my words of caution above, your customers / readers will trust you and be happy to follow your recommendations.
Becoming an affiliate marketer is fairly simple.
First, you need to find a product to promote. You can easily do this by typing in "product name" + "affiliate" in Google. This will give you a list of relevant affiliate programs in your niche. You can also visit blogs, YouTube channels and live streams and find something that suits you. However, you need to keep in mind that as an affiliate, you should only promote products that you trust to your audience. Product selection can literally make or break you as an affiliate marketer, so you need to be very careful with this part of the process.
The next step is to reach out to your audience with your product. You can do this by collecting emails, blogging, using social media, among other ways. The point is to get the word out about the product.
It is a good idea to create a website for your marketing. This will allow you to reach the appropriate audience, getting you closer to you potential customers fast.
As an affiliate, transparency is critical. Include your contacts on all platforms for readers, advertisers or potential partners to reach you. You can also let people know you a little better by adding an about page.
Next, create quality content on the product, aiming to help your readers understand and use it better. Use reviews to inform your potential customers, and consider using video and webinars as an add-on to information sharing.
Note that some affiliate networks and affiliate programs require you to have already established content and site traffic before approving you as an affiliate.  Look closely into the rules and requirements of each affiliate program.
The next step is to grow your business. This step should be taken further down the road when you have a better understanding of the ins and outs of affiliate marketing. You have many avenues to choose from.  You can use PPC advertising to get people to your offers, grow your email list, offer webinars…. there are many ways you could go.
With your business expanded, all you have to do now is track and improve.
The beauty of affiliate marketing lies in the fact that little or no capital is required to start. Plus, the amount of money you make depends on how much effort you put into your business, which means the sky is the limit in this business. So, start small and expand your boundaries as you grow and gain more experience.
---
FINAL THOUGHTS
If you want to make money doing what you love, the internet is a great place to start. And one of the best opportunities you can grasp right now is affiliate marketing. This is because it is compatible with literally anything you are into. Love writing, or making videos, or perhaps photography? There is an affiliate program for all that.
Most merchants love affiliate marketing because of the 'pay for performance' model, which saves them marketing expenses. This means that once you get into affiliate marketing, there will always be business for you because somebody somewhere will always need your services. Which is the sole essence of business; being relevant.
Do you want to learn more about Affiliate Marketing?  Here is an article I wrote about what Affiliate Marketing is and How to Start
The best part about all this is that we all have something that we love doing. All you need to turn yours into a good business is patience, focus and consistency.
I hope you found this information of use.  Please let me know below!
To your success,
Mike Aha