Welcome to my Article Forge Review
Creating content that ranks high on Google and other search engines is very important especially if you intend to earn money from your website. However, it is easier said than done, because creating content that ranks high on these search engines is not a simple task.
One of the most important factors that determines how high your content ranks on search engines is the quality of the content. This means that your site needs to be regularly updated with high-quality content if you want it to be ranked higher on search engine result pages. This is because the more your content is shared, back-links will start pouring in, and the chances of Google recognizing your website as a valuable website also increase.
Most website owners and bloggers find it difficult to create top-quality content since it requires you to conduct extensive research, which can be time-consuming.
As a website owner, you can get your content in one of two ways: you can opt to research and write your own content from scratch, or, if you have the money, you can hire people to write your content for you. This is called outsourcing, and it is something that most major companies and webmasters do. In many cases, most of these writers are outsourced from freelancing service platforms like Upwork and Fiverr.
If you want your website to rank even higher in search engine result pages, your website needs to have a lot of content. Creating a lot of content obviously takes time. Which is why some people have opted to turn to technology for content creation services so as to stay ahead of competitors and save both time and money. With the steady advancement in Artificial Intelligence solutions, the demand for website content writer tools has been on the rise in recent years.
I recently stumbled upon one such platform known as Article Forge. The platform is presented as a website content writer tool which uses artificial intelligence to write complete articles for you. All you need to do is to provide the keyword for the article you want to be written and Article Forge will deliver the results in a few moments.
Article Forge uses algorithms to create new articles within a very short period. The articles generated by the website are worded to make sense. They also pass plagiarism detectors such as Copyscape, meaning that the articles written by Article Forge are authentic.
This all sounds pretty amazing, doesn't it? The very idea of having a website writer content tool that instantly writes 100% authentic articles for you sounds amazing. However, is Article Forge the real deal? Is it the answer to all your problems when it comes to writing articles? Will it provide you with high-quality content within minutes and help you save on hiring expensive writers?
I did some extensive research on Article Forge and came up with all the answers to these questions. If you want to know whether this platform is worth your time and money, read on.
Product Being Reviewed: Article Forge
---
WHAT IS ARTICLE FORGE?
According to Article Forge's sales page, the platform uses a deep understanding and highly sophisticated algorithms to automatically write articles that are similar to the ones written by humans.
The articles can be from any niche; all you need to do is to input the keyword of the article you want to be written. Article forge then goes through millions of articles related to the keyword you have provided, learning everything about the given topic, and generating related content in its own words.
What Article Forge does is gather content from millions of related articles on the web, spin the content and write every sentence in its own words, producing unique content.
In case your article needs images and videos, there is an option that enables Article Forge to include them in your article. It can also add relevant titles and links to your article automatically.
The Article Forge creator tool is very easy to use since the platform is web-based. This means that there is no need for you to download or install anything before gaining access to the platform's services.
To access Article Forge's services, all you need to do is to register an account. New users start with a 5-day free trial. However, this is only after you have provided them with your credit card details. During the trial period, though, you will not be required to pay for anything.
Sometimes, you might be asked to send your photo ID as proof that the information you have provided is authentic. Also, Article Forge checks your IP among other data to check if you have already used their free trial period. You will therefore not get another free trial period if you try to open a new account.
---
HOW DOES ARTICLE FORGE WORK?

Article Forge is a very user-friendly platform. The user interface is easy to understand, making it quite simple to use. The menu is located on the left side of the website. The options available on the menu are My Articles, Post Scheduler, WordPress, Affiliates, New Article, and API Information.
To create a new article, all you have to do is to click on New Article on the Menu bar. You will then be presented with options to begin to create new content. Before the article is created though, you need to input the keyword of the article. There is also an option to include sub-keywords. However, I would discourage you from doing this since the sub-keywords tend to confuse the system and article, making the article not stick to the topic.
Article Forge also allows you to choose your content readability. In case you have a money site, I would advise that you use the Money Filter setting, and leave it as its default settings. The platform supports Tier 1 and Tier 2 content options that can be used with many sites.
There are advanced options that give you the ability to have more influence on how the article will be written. These options include the number of paragraph variations, the number of sentence variations, and the choice of whether to toggle shuffle paragraphs on or off.
Also, you can customize the style of your article. You can set the length of your article to 50, 200, 500, or 750 words. The longest article that Article Forge can create for you is limited to only 750 words. You can also choose to allow the platform to add titles and headings.
There is an option to include images and videos in your article and also replace keywords with links. The videos embedded in your article are outsourced from YouTube and the images are hardlinked to the content of your article at imgr.com.
To replace the keywords with links, you will need to create a new replacement group. In case there are multiple links in one replacement group, Article Forge will automatically link the keywords to anyone in the list. If you prefer that multiple keywords be linked to the same link, then you just list the keywords in one replacement group.
When you are sure that you have given all the specifications of how you want your article to be written, you can now click the Create New Article button. Article Forge will then start gathering information from thousands of sources related to your keywords on the web, mixing the content to deliver you with a unique readable result.
The time Article Forge takes to create an article varies depending on the length option you chose for your article. The articles can take up to five minutes to create or even more. Shorter articles take a shorter time to create while longer articles take more time.
The content created by Article Forge, however, is not as articulate as you are made to believe in the sales page. Most of the time the content is unusable and will require heavy editing before you post the article on your site.
On the upside, Article Forge can publish articles automatically on your WordPress. You can post the article after manually reviewing and editing the article. You can also create a schedule where the platform will automatically post an article every number of days based on the list of keywords you provide.
There are several formats you can opt for when exporting your articles. You can choose plain text, PDF format, or HTML format. You can access your articles by clicking the "My Articles" button on the menu bar.
BUILD A SUCCESSFUL ONLINE BUSINESS – CLICK HERE NOW!
---
HOW MUCH DOES ARTICLE FORGE COST?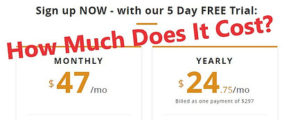 Article Forge has two payment plans. You can either choose to pay for the services of Article Forge every month or annually. If you opt for the monthly payment plan, it will cost you $47 per month. Article Forge's annual plan costs $297 per year. The annual plan is cheaper than the monthly plan since when you divide the $297 to a monthly fee, it will only cost you $24.75 per month, compared to the monthly plan which is close to double the monthly fee. However, the annual fee is only billed as one payment.
Article Forge has a five-day free trial for new users. However, to be eligible for the free trial, you need to provide your credit card information beforehand. If you are not satisfied with the services that Article Forge provides, you can cancel with no strings attached. If you do not explicitly cancel after the trial period expires, you will be billed.
In addition to the free trial period, Article Forge also has a 30-day money-back guarantee. This means that if you do not find the software worthy, you can cancel your subscription and you get your money back. However, you can only get your money back if you cancel within 30 days after making the payment.
---
WHAT I LIKED ABOUT ARTICLE FORGE
• There is no limit to the number of articles you can create with article forge
• It has a trial option where you can try it out for free for five days
• Article Forge is user-friendly and is easy to use
• The articles by Article Forge can be integrated with CopyScape and WordAI
• You have the option of including videos, external links, images, among other attachments to the articles that Article Forge creates for you
• You can schedule and publish your articles on your WordPress sites
• Article Forge has a 30-day money-back guarantee, which means that you can get your refund within 30 days of using the software if you are not satisfied with the services it provides
---
WHAT I DID NOT LIKE ABOUT ARTICLE FORGE
• Article Forge can only create an article with a maximum of 750 words
• The amount of time the software takes to create an article is much longer than what Article Forge makes you believe
• The content generated by the software might be unrelated to the keyword you provided
• A lot of improvement is needed for the article to produce good results
• The articles generated lack the human touch felt in articles written by humans
---
FINAL THOUGHTS
I believe Article Forge still has a long way to go when it comes to generating content. As it is, it feels like what Article Forge does is combine bits and pieces of various related articles into one article. A lot of times, the articles are combined in such a way that they do not have a cohesive introduction, body, and conclusion.
On more than one occasion, the articles generated by Article Forge stray away from the keywords you provide, jumping to unrelated topics. Other times, the articles are not even related in any way to the keywords you provide. This is expected since the content of the article is generated from different sources on the web.
A lot of adjustments need to be made to this software before it becomes perfect. More changes need to be made on their algorithm to improve the software since the content generated still lacks the human touch, contrary to what they would like you to believe.
I was quite impressed by the fact that Article Forge has the option of including images, videos, and relevant titles to the content it generates. However, this depends on your topic since most of the time, Article Forge will not find and add videos or images to your article.
Unfortunately, unless Article Forge gets a thorough upgrade and its algorithms are heavily edited, I do not think it is a content creation service tool that is worth your money in its current state. If you opt to use it, understand that you will need to make a lot of corrections on the generated content. Therefore, it is best suited for Tier-2 link building content.
If you are still curious, I would still recommend that you try out the 5-day trial option. Give it a whirl and see whether it makes your life easier or more difficult. There may be a chance that the software might work for you without requiring much editing. If this doesn't happen for you, you can simply just cancel your subscription. Make sure to explicitly cancel or you will be billed!
Unfortunately, there are no shortcuts to content creation. Either you, or someone you hire has to create it. I have tried these content scraping since they started around 2008. They were called "article spinners" back then. Not once did I get a cohesive, thoughtful article or post from these systems. At best, they required lots of edits and corrections. At worse, they were completely useless!
If you want to create a lasting business online, you need to learn how to produce great content. Whether you like writing posts or creating videos, you will need to invest time, money, or both. I know because this is how I choose to make my living. It is not easy, but the freedom and joy of controlling your own financial destiny is priceless. Building your own business by creating amazing content is possible. All you need is a little help! Check out my link below to get started
All in all, I really hope this article has been of great help to you and will help you make the right decision when it comes to Article Forge.
To your success,
Mike Aha