We could all use a little extra cash.  Generating money through work and side hustles is the most obvious way we think of when it comes to making money.  But saving money is just as important and effective.  If you save a percentage on many of the purchases you make daily, the numbers add up quickly.  What if I told you there is an easy way to save and keep some money in your pocket?  What's more, you will save on purchases you make on a regular basis.  So whether you need a few bucks to spend on the weekend, want to make extra payments or just want to be more thrifty, here is a good list of apps that help save money!
---
WHAT ARE MONEY-SAVING APPS?
As the name suggests, money-saving apps are apps that help you save money. They do this by taking on the hard work of helping you find the best deals in your shopping, and also helping you make better decisions about your finances, earn your cash back on purchases, among other ways. Here are my top picks:
1.      DOSH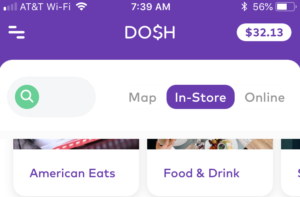 Dosh is a smartphone app that allows users to earn cashback for shopping and dining using their credit cards at outlets that are participating. There are several ways you can get cashback using Dosh:
Link Your Credit Card
If you are a first-timer, you will receive $5 simply by linking your credit card to Dosh. Additionally, you also get to earn $1 for each extra card you link. To make the most out of this offer, you will want to link all the cards that you use for shopping.
Shop In One Of The Participating Stores
You can get up to 10% of your cash back by shopping or dining at any of the participating outlets that are within your area. This amount will be deposited in your Dosh wallet.
Shop Online
If you frequently shop online, Dosh could allow you to make savings on the items you buy. There is a selection of online deals available on Dosh that feature verified brands such as Target, Nike, PetSmart, and Forever 21, among others. Keep in mind that the cashback rates vary from one brand to another.
Make Referrals
In the app, click "Refer" on the dashboard for a unique referral link to be generated for you. Send this link to friends and family via social media, text, or email. If someone you refer signs up and links their credit card, you will receive a bonus of $5.
You can also refer a business to the Dosh app, and if a verified company signs up via your link, you will receive 20% of the fees that the company earns from Dosh for the first two years that it takes part in the program.
Book Hotels
You can also receive cashback by booking a hotel that is featured on Dosh. If you are booking a hotel using Dosh for the first time, you will receive a $25 bonus in addition to the cashback.
To cash out on Dosh, you have to wait until your account accrues $25. To withdraw your earnings, you have to shop or dine at one of the participating outlets, so even if you achieve the $25 minimum, you cannot cash out if you haven't bought products or services. You will receive your money via Direct Deposit or PayPal.
Pros
It is easy to use as all you have to do is link your credit card and start shopping at the participating outlets.
You earn cash instead of credits or points.
The brands that are linked to Dosh are well-known and trusted.
You earn your money back in a variety of ways, including booking hotels, shopping, and making referrals.
Cons
You cannot link your card to other cashback apps once it is linked to Dosh.
You have to live within the United States to use and benefit from Dosh.
Learn more about How Dosh Works Here!
---
2.      HONEY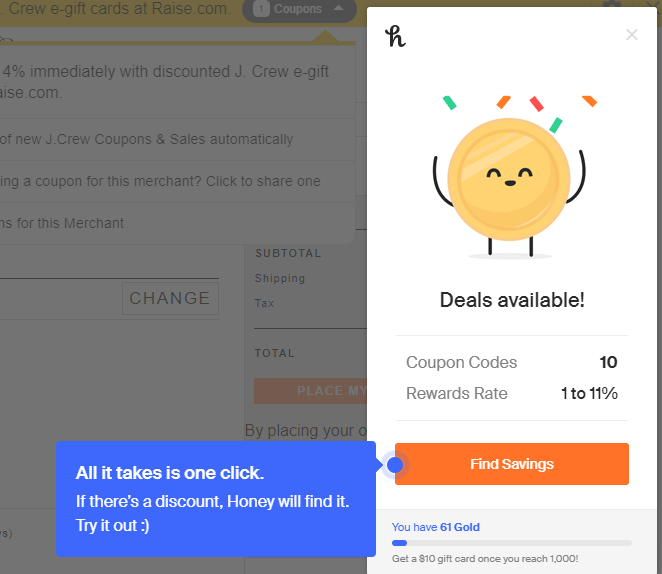 The Honey app is a browser extension that simplifies the process of looking for discount codes by automatically searching and applying them as you go about your shopping on online sites. It is available on Chrome, Opera, Firefox, Edge, and Safari for both Mac and Windows. You can opt to join Honey via your Facebook or email account to access features like Honey Gold.
Once you set up and the Honey icon appears on the menu, go to your favorite online retailer and add items to your cart as you normally would, but don't check out just yet. Click the Honey icon to view the coupons that are available on the shopping site you are on. If the checkout page has a promo code field, Honey will pop up. You can then click on "Apply coupons" and relevant discount codes will be applied. Honey will alert you if a working coupon code is unlikely to be found, but you can click on "Try Anyway' if you want it to search anyhow. Click "Continue to checkout" and complete your purchase as normal.
Some notable features of Honey include:
Honey Gold
When you install the Honey extension and create an account, you automatically become part of the Honey Gold program. When you shop at participating retailers, you will receive Gold, a randomized amount that varies depending on the store. Once you accumulate 1000 Gold, you can redeem them to get a $10 that you can use at select stores.
Honey Droplist
With this feature, you receive an email that notifies you when the price of an item you want to buy drops to a particular price that you set. It also reminds you when an item you have on your list is about to expire.
Honey Travel
This feature gives you access to hotel inventory from all over the world with charges that are lower than what you will find on other booking sites. The app compares prices with a variety of travel sites like Priceline, Hotwire, and Booking.com to ensure that you are receiving the best price.
Honey Price Tracker
Confirm the price history of an item that is available on Honey by clicking "Price History". You will be shown the variation in the price of the item over the past 30, 60, or 120 days.
Best-Price Detection
If Honey does not find the best deal for you on Amazon, you may be able to find a better deal on the same item using the best-price detection feature in the app.
Refer a Friend
Refer friends and family via Twitter, Facebook, or email using your unique referral code and receive 500 Honey Gold (equivalent to $5)
Pros
Download and install Honey for absolutely free
It works in the background and automatically searches for discount codes for every store you visit.
Prevents you from overspending on Amazon by suggesting a more affordable price from another listing.
Honey supports a wide variety of products and retailers.
Cons
Some of the discount codes that are offered on Honey are already expired.
The Honey Smart Shopping Assistant, the phone version of the app, allows access only to a limited number of stores and doesn't have all the features found on the Honey extension. This makes using Honey on your phone frustrating.
Check out my comprehensive Honey App Review
---
3.      DROP APP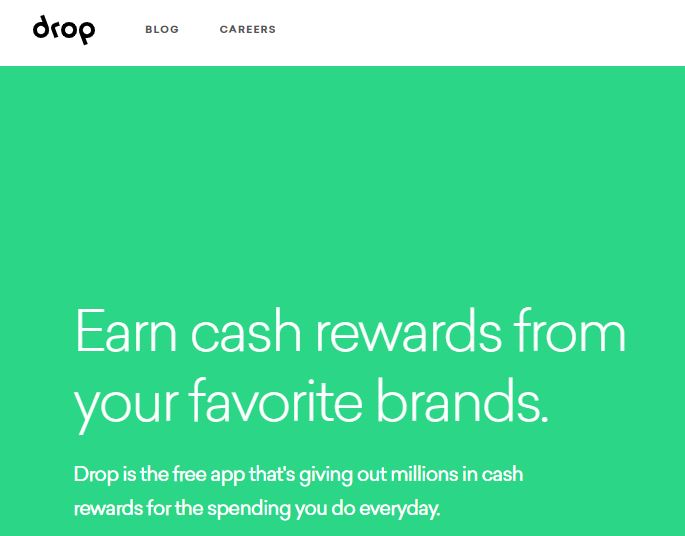 Drop is a Canadian loyalty rewards smartphone app that lets you earn gift cards which you can use at participating retailers. Once you download the Drop app and sign up, you will be required to link your debit or credit card. Select five of your favorite stores where you want to earn from. Consider choosing retailers that you frequently shop at as this will determine the number of points you can earn. Additionally, you won't be able to edit the stores you have chosen once you make the selection. You will earn points automatically, and once you have accumulated the needed points to redeem a gift card, you will receive an email.
Other than accumulating redeemable points at your selected retailers, there are other different ways you can earn money on Drop:
Special Offers
The Drop app always has offers to earn additional points outside the 5 retailers that you chose. These offers vary from one company to another, but they are generally a great way to increase your points and redeem them even sooner.
Sign Up with Partners
Drop is partnered with a variety of businesses to allow you to earn even more points. They include:
Rocketmiles – earn up to 100,000 points simply by booking a hotel with Rocketmiles
Carrot Rewards – live a healthier lifestyle and earn points with Carrot Rewards.
Refer Friends and Family
When you join Drop, you will be given a unique referral link that you can send to friends and family to invite them to use the app as well. For each new user that signs up using your referral link, you earn 5,000 points, which is equivalent to $.
You can also earn bonus points by following the Drop team on social media, linking a second card, and accepting notifications from the app.
1,000 Drop points are equivalent to $1. After you accumulate enough of the points, go to the "Redeem' tab to redeem them for various gift cards.
Pros
You don't need to scan barcodes or upload receipts using Drop – after you link your card, you start to pile up points automatically
You can combine rewards using the app. Therefore, if you purchase an item at a retailer you chose and there are other cashback offers for the same item on other similar apps, you can scan receipts on these apps and earn more cash back.
There are different ways through which you can earn points on Drop, such as by making referrals and through the special offers.
Drop offers reliable customer support that you can reach out to in case you want to make inquiries.
Cons
Rewards are in the form of gift cards instead of cash.
You can only choose five retailers where you can earn points from regularly, and once you make your decision, you don't have the option to make changes.
Here is my in-depth Drop App Review
---
4.      DIGIT APP
Digit is an app that keeps track of your spending to determine how much you need to save. It works by automatically moving money to a separate savings account.
To get started, download the Digit app on your Android or iOS and then sign up for an account. You will then need to connect a checking account – you can only connect one checking account at a time. Once you are done setting up, Digit will analyze your account activity for a few days, including how much you deposit and withdraw. Once the Digit algorithm gets a feel of your spending habits, it will automatically start saving money for you by taking some money from your account and transferring it to your Digit savings account.
To make the most of your Digit account, set a checking account minimum. To do this, simply click the conversation bubble you will see on the app's home screen and type in "Minimum". Digit suggests setting a minimum threshold of $200. You also have the option to set a Maximum Daily Save limit.
Control Your Savings With Text Messages
One of the more unique features of Digit is the ability to save simply by sending text messages. To make a deposit, text Digit "save", and to withdraw, simply text "withdraw". You can also control how much you are saving via text – all you have to do is send "Save More" to Digit and the amount being saved will be increased. If you change your mind, text "Save Less' for your savings level to be reverted to the minimum.
Set Up Your Savings Goals
You can set up savings goals, referred to as goalmojis, using Digit. To set one up, click "Try adding a personal goal" in the app and then select from the suggested goals or create your own. You can then add a description, how much you would want to save, an emoji for reference and when you would want to save it by. Digit will then set aside money for your goal. You can cancel or make changes to your goal whenever you want. If you delete your goal, the remaining balance in it will automatically get sent to your checking account on the next business day.
Unlimited Withdrawals
You are not limited in how you access your Digit savings – you can make withdrawals at any time and as many times you want within a month. To make a withdrawal, select the goal you want to withdraw from in the app and then enter the amount you want to remove. You will also be able to see an arrival date.
Savings Bonuses
When you manage to save for three consecutive months with Digit, you will receive a 1% annualized savings bonus which will be automatically deposited in your account. There are no account minimums required to qualify for this bonus.
Protection From Overdrafts
An overdraft with Digit is highly unlikely, but in case your checking account is overdrawn by the auto-saving withdrawal system, you will be reimbursed the fees up to two occurrences of overdraft.
Pros
You get to earn $5 when you refer friends and they sign up with your unique link. The person you refer will also earn $5 for signing up.
There are no account minimums, so you can leave as little as you want in your Digit account.
You receive a 1% bonus for saving every month.
You can withdraw money from your Digit account whenever you want.
There is a 30-day free trial to help you get a feel of the app and determine if it suits you.
Cons
After the free trial, you have to pay a monthly subscription cost of $5 if you want to continue using the app.
You can only connect one checking account at a time to the app.
---
VERDICT
Saving money on your own can be difficult. Luckily, with the help of technology, you won't even have to put in too much work. Using any of these apps, you can start saving more money on purchases, manage your finances better, and consequently meet your personal saving goals. So what are you waiting for? Why not get started on this journey right away?
Do you have more apps that you use to save money?  Please let me know in the comments section below!
CHECK OUT OTHER WAYS TO MAKE QUICK CASH ONLINE
To your Success,
Mike Aha