Welcome to my Spin Rewriter 9 Review
Article spinning is the process of rephrasing an existing article to come up with new unique content. As a result, you can create a lot of content using just a few sources. To make things even easier, there are a variety of article spinning tools that you can use to help you spin articles even faster and consequently help you to build your online content – nut how reliable are these tools? Here is an unbiased review at one such tool to help you determine if it is worth your while.
Product Being Reviewed:  Spin Rewriter 9.0
---
WHAT IS IT?
Spin Rewriter 9.0 is a version of an article spinning software that is completely web-based. Developed by Aaron Sustar, the tool is made specifically made for use in article marketing to help avoid plagiarism as well as to prevent getting penalized for duplicate content by the Google search engine algorithm.
---
KEY FEATURES THAT MAKE IT STAND OUT
Features in this version of Spin Rewriter include:
Improve semantic analysis
Spin Rewriter 9.0 uses the "convolutional neural networks' to define the role of each word in a sentence.
Added video tutorials
There are new video tutorials featured that you can use for guidance tips on how to use Spin Rewriter 9.0.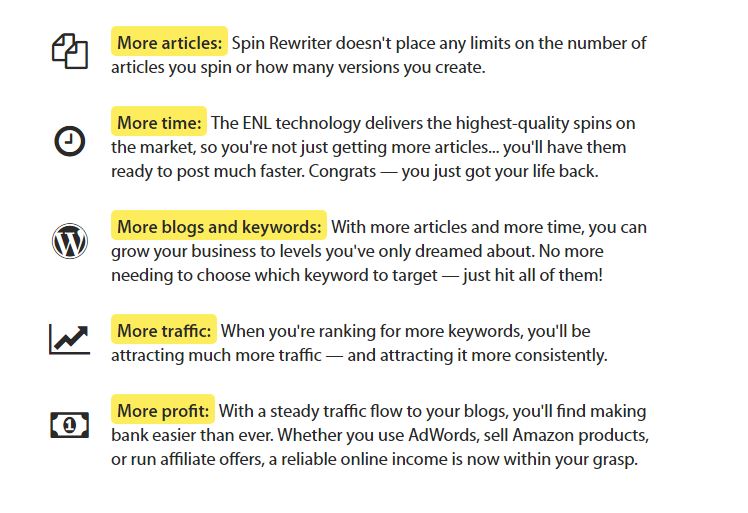 Sentence structure manipulation
Spin Rewriter 9.0 makes use of grammatical trees to come up with a variety of new sentence diagrams – this allows for your sentences to read differently but still make sense.
Stock photo integration
You can add relevant photos to your spun content thanks to the free stock photo repositories.
The synonym database is manually reviewed
The synonym database in Spin Rewriter 9.0 is manually pruned to ensure that the suggested synonyms are well-prioritized in varying contexts as well as when they have different meanings.
Built-in video database
Spin Rewriter 9.0 has both a photo and video database that has been improved to allow you to enhance your articles.
Changing tenses
You can make changes to the grammatical tense of specific parts of the sentence thanks to the Emulated Natural Language (ENL) Semantic Spinning technology used in Spin Rewriter 9.0.
Mass export from archives
You have the option to export the spintax of a variety of spun contents directly from your archive.
Improved user experience
The Spin Rewriter team has taken the time to make the interface of the 9.0 version more intuitive and simpler to use.
Categorization of articles
You are no longer subjected to assigning categories to distinct articles. With a single click, you can categorize a selection of your content in Spin Rewriter 9.0
---
HOW DOES IT WORK?
When you log in after signing up, here is what you can expect to see on the home tab:
Rewrite your articles
Gold membership – exclusive area
Take advantage of full WordPress integration
Join the profitable Spin Rewriter affiliate program
How-to and video tutorials
Invite friends
Contact the Spin Rewriter team
When you click on the "rewrite' tab, you will be redirected to the main rewriting page. There are two options provided:
REWRITE A SINGLE ARTICLE
There is a field where you can enter your original text. If you have an article ready, you can simply copy and paste it to the provided text field. If you don't have a seed article, you can rely on Spin Rewriter to provide you with 10 bonus articles from Big Content Search which comprises of an extensive list of PLR (Private Label Rights0 articles that you can take advantage of with Spin Rewriter 9.0. To use this function, click the "Fetch a New Article' link that you will find on the top left corner of the box where you are supposed to enter your text.
After you click the link, a pop up will appear with a field where you can type in a primary keyword for the seed article that you want to be fetched. Once you type in the keyword, the Spin Rewriter system will use go to Big Content Search and pull a list of articles that are related to your primary keyword.
From the given list, you can select an article you like by click "Fetch this article" so that the article is brought to the article box. Alternatively, you can go out on your own and get content from a variety of sources. Select the sections of these articles that you want to use for your article and paste them on the article box.
1.      Settings – part one
Setting up your text for distinctiveness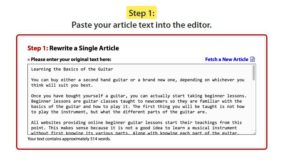 Spinning your text on paragraph and sentence level
In addition to spinning on the word and phrase level, if you want Spin Rewriter to spin your article on paragraph and sentence level, enable this option by toggling the button provided to "YES". You can select among the following options to determine the tasks that you want Spin Rewriter to do:
Rewrite complete sentences
Rewrite entire paragraphs
Write additional paragraphs on its own
Change the entire structure of sentences and phrases
I'm feeling lucky
You can either click on the "start the re-writing process" button for the process to begin, or the "I'm feeling lucky" button to view more settings options. In the settings under "I'm feeling lucky", you will find three options under the "How adventurous are you feeling?" level:
You can choose a high risk option where the focus is on volume
You can choose the recommended level with more vetted suggestions
Pick the lowest risk suggestion that you know are 100% correct
For the review, the settings were set to "recommended".
Protected keywords
If there are words and phrases that you don't want to be modified, enter them in the text box under "protected keyword". You can also opt to protect capitalized words in your text.
Multi-level spinning
You can enable multi-level spinning, which will prompt Spin Rewriter to look for synonyms for single words inside spun phrases as well, otherwise known as multi-level nested spinning. This will ensure that your articles are unique.
After you have set everything up, click the "start the re-writing process" button to move on to step 2.
2.      Settings – part 2
Below the text editing area, click the "one-click rewrite settings" button to view settings. Under "How many synonyms for words and phrases?" you will see the following options:

You can then select the following option that will prompt Spin Rewriter to spin your new phrases once again for complete uniqueness.
Once everything is set up, click the "Start the one-click rewrite process" to kick off the rewriting process.
After the process is complete, you will see the spintax version of the article in the article box. To go to the next step, click the "continue to final step" button.
3.      Settings – part 3
Here, you have the option to use a couple of additional settings to make your article even more unique. To improve the uniqueness of the generated texts, you can select from the following options for Spin Rewriter to execute:
Use only synonyms and no original words whenever possible.
Intelligently reorder paragraphs and lists whenever possible.
Generate strict HTML formats.
You can also have Spin Rewriter fetch videos from the database of over 8 million YouTube videos that are built-in. to do this, simply click on "fetch relevant videos' and type in your keyword, then select the number of videos (1-50) you want to be inserted in each article. Do the same thing for relevant videos you want inserted.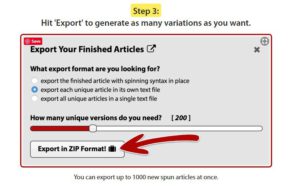 Once you are satisfied with these settings, simply click the "Generate a unique version" button to generate a readable and unique version of the spun article. You can then run a Copyscape check on it to confirm that the article is unique. If you click the "grammar & spelling" button, the built-in grammar and spelling checker on Spin Rewriter will let you know if there are any typos or other issues in your article.
To see how your article will look like once you post it to your website, click on the "preview" button. When you click on the "post to WordPress" option, you can pick one of your websites where you want the article to be published and send it there by clicking the "publish this post" button.
---
REWRITE MULTIPLE ARTICLES
If you select this option, there are three ways you can provide your articles:
Enter articles into multiple text fields
Upload multiple articles in separate text files
Upload a ZIP file with multiple articles in separate text files
---
PRICING
Spin Rewriter 9.0 has three pricing points:
Monthly ($47 per month)
This option includes:
Unlimited articles
ENL spinning algorithm
Bulk spinning and mass export
Sentence and paragraph-level spinning
Yearly
This option is free for 5 days, then you will have to pay $77 a year. In addition to the features you will find in the monthly option, it includes:
Video module
Free BCN articles
Lifetime ($497 single payment)
The features are similar to those that you will find in the monthly offer.
---
PROS
30-day money-back guarantee
Even after the 5-day free trial, you still have 30 more days to try out Spin Rewriter and determine if it works for you. If you are unsatisfied with the results, you can rely on the money-back guarantee that allows you to ask for a refund on your purchase.
Spin Rewriter 9.0 is entirely cloud-based, which means that you won't have to install anything on your PC, and you can also access it from whatever device wherever you are as long as you have a reliable internet connection.
You get access to Big Content Search
Spin Rewriter is partnered with Big Content Search. Therefore, if you are subscribed to Spin Rewriter, you are given 10 credits to Big Content Search to use search for seed articles that you can spin.
The spun article is readable
After spinning, you get to see the resulting article which is indeed perfectly readable with just a few minor edits needing to be made.
You can integrate Spin Rewriter to SEO tools via API
You can integrate Spin Rewriter 9.0 to some SEO tools using its API. All you have to do is generate your unique API key and enter it into the SEO tool and enable the content spinning feature. SEO tools that can be easily integrated to Spin Rewriter include RankCipher, Ultimate Demon, GSA SER, and RankWyz, among others.
There is a 5-day free trial for the yearly option
If you choose the yearly, option, you get to enjoy a 5-day trial period where you can access all the features of Spin Rewriter 9.0 for free to help you determine if it is worth paying for. If you are not impressed, you can cancel at any time before the five days expire.
CONS
Lifetime access is not cheap
Although lifetime access is the most desirable due to the lack of recurring fees, it is priced at $497 which is quite costly.
Not suitable for primary blogs
Despite the considerable quality of the spun articles produced by Spin Rewriter 9.0, you still have to take the time to go over them on your own meticulously and correct grammatical errors that may have been made.
---
VERDICT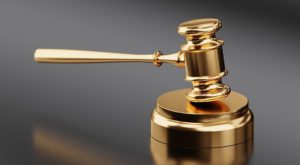 Spin Rewriter 9.0 is a vast improvement over past article spinning tools.  These have traditionally been a huge waste of money because the articles that they produced were often complete nonsense.  You had to basically rewrite each and every one of them.
Spin Rewriter 9 is a great article spinning tool that can save you a lot of time in your research and help you build quality content on your website. However, you will still need to do some editing on your own on the final product as it not 100% accurate in what it does.  I personally would not use it on my main blog but that is just my choice, not because the tool is not good.  If you want to take it for a spin (pun intended) I don't think that it would hurt to give it a try and see how the tool fits in your content creation plans.  Especially when you consider that there is a 5-day free trial if you go for the yearly price plan.
Writing content is one of the most important aspects of being successful with your blog or website.  Without it, you have no traffic.  It is the lifeblood of your business.  Spinning articles and other tools are all well and good.  But do you know how to write articles that bring in loads of visitors and almost force them to click on your links?  Can you churn out incredible content that syphons organic traffic to your site day in and day out?  If not, this is a skill you need to learn pronto.  The good news is that it can be learned with some guidance and a little practice.  Check out my top recommended online training class for affiliate marketing.  It will teach you how to write excellent articles, pick niches, create websites in minutes and much more.
I hope you give it a look.  It is 100% free to try
HERE IS MY TOP RECOMMENDED RESOURCE TO START MAKING MONEY ONLINE
I hope you found this post useful and helpful.  Please leave your thoughts and comments below.
To your success,
Mike Aha