Welcome to my Cutco review!
Multilevel marketing is often touted as an easy way to earn an income online as it is believed to allow for more flexibility when it comes to organizing your schedule, giving you the freedom to work from home. However, not all MLM companies offer this privilege as most of them require a lot of time and dedication to succeed. Furthermore, some of them turn out to be scams that lead to a lot of people losing the money that they invested with the hope of making profits. MLM companies can be found in almost any niche, whether it is the ever popular health and wellness niche or something less expected like the beef jerky industry. This review takes a look at Cutco, one of the more unique MLM companies, to help you determine if it is worth investing in.
---
WHAT IS CUTCO?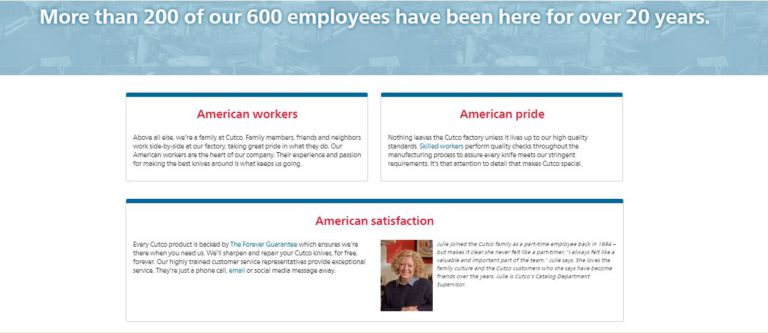 Cutco is a direct sales company that specializes in the sales of knives mainly through direct sales. One of the main components of direct selling is multi-level marketing, where a direct seller earns commissions from selling the products of the company to customers and by sponsoring new distributors and earning commissions as a result.
Cutco was established by Alcoa and Case Cutlery (Alcas) in 1949 to manufacture knives. Alcoa bought the shares of Case Cutlery in the company in 1972. In 1982, the Alcas management bought the company from Alcoa, and in 1985, the company successfully acquired Vector Marketing Corporation. Alcas changed its name to Cutco in 2009, which was also the name of the main product of the company. Cutco is currently based in Olean, New York, US.
Vector Marketing is an MLM subsidiary and domestic sales arm of Cutco. This simply means that Cutco is the retailer of the product and vector Market provides those who are interested in a business opportunity where they can resell the products as affiliates.
---
WHAT PRODUCTS DOES CUTCO OFFER?
Cutco sells a wide range of cutlery and kitchenware, with their main focus being knife sets and individual knives, many of which are varieties specially designed for professional use. Here are some of the Cutco products that are currently being sold to customers:
Cutco Cutlery Paring Knife Dark Brown 1720
This is described as a full tang knife with triple rivet construction that features high-quality nickel-silver alloy rivets. The thermo-resin handles are ergonomic and supposedly resistant to cracking, fading, and chipping.
Cutco Model 1864
This is a set of table knives, each possessing a blade that is made of 440A high-carbon stainless steel. The knives have 3.4 inch Double-D serrated blades and a full tang triple rivet construction. The 5-inch handles of the knives are described as ergonomic and comfortable in the hand.
Cutco Model 1722
This is a butcher knife that features an 8-inch carbon stainless steel blade that is touted as having an ultra-sharp straight edge. Additionally, it has a full tang, triple rivet construction. The ergonomic handle is described as having a universal fit in addition to reducing the risk of fatigue when in use.
Cutco Model 1769
This hunting knife comes with a leather sheath that allows for easy and convenient storage when the knife is not in use. It features a thermos-resin ergonomic handle that is resistant to chipping, fading, and cracking.
Cutco 2 Piece Outdoorsman Knife Set
This is a set of two knives (Fisherman's solution and Clip point outdoor knife) that each come with a protective sheath that is used for storage. Each design has a flexible 440A blade that is made of high-carbon stainless steel. The fisherman's solution blade can be extended from 6 inches to nine inches, whereas the clip point outdoor knife comes with a Double-D serrated edge.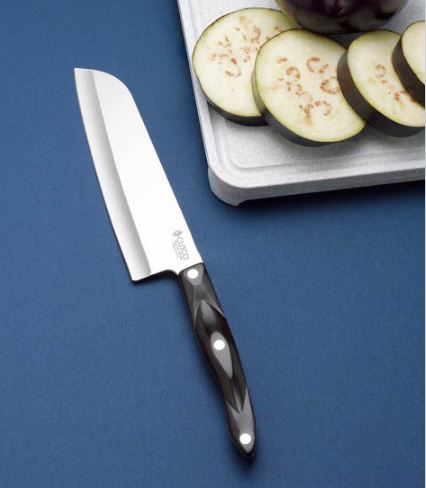 Cutco Model 1766 Santoku Knife
This knife features a 7-inch high-carbon stainless steel blade that has a straight edge and features a full tang, triple rivet construction. It has a 5.6-inch handle that is described is described as perfectly balanced and ergonomic.
Cutco Model 2007
This is a set of six high carbon stainless knives and one fork that comes with a honey oak block. The knives are all Cutco models, including designs such as the 1720 paring knife and the 1729 petite carver. The set also comes with a 10-inch*13-inch poly prep cutting board.
Cutco White Vegetable Knife
This vegetable knife features a full tang, triple rivet blade and a thermo-resin ergonomic handle that is white. It can be used for dicing, chopping, and transferring ingredients for stir fry or soup.
The prices of the knives and knife sets ranges from $286 to $1212.
---
WHAT DOES IT COST TO JOIN CUTCO?
You can become a part of the Cutco business opportunity for free. According to the website of the company, if you want to become a sales representative for the company, you are required to fill an application form and provide details on your background. You don't need to have any previous experience as a salesperson to apply, but you have to be a minimum of 18 years old to qualify. Once the company receives this information, you will then receive an invite to be interviewed for the job. The interview is typically done in a group, and if you manage to qualify, you will be put through training that lasts for three days during which you will learn about the sales tactics to use when promoting the products as well as the functionality of the Cutco Cutlery. Keep in mind that you will not be paid during the training period and are expected to fend for yourself.
After you complete the training, you will be provided with a demonstration set valued at approximately $425 that you are expected to use when you demonstrate the functionality of your products to customers. Although this set of knives is meant to serve as a loan, if you fail to make the required amount of sales, you may have to pay for the "loaned' knives out of your pocket.
---
THE CUTCO COMPENSATION PLAN
Cutco does not have a conventional compensation plan as you would expect from a typical MLM. According to the company's website, sales representatives can meet potential customers either virtually or in-person. As a representative, your daily activities might include:
Scheduling appointments with customers
Present your set of Cutco products online or in a customer's home (although the latter is more likely)
Fill out and submit order forms to the management office
Review your sales performance with the local office manager
Attend optional weekly team meetings.
The website further explains that sales reps get a base pay guaranteed upon showing the knives to potential buyers that meet minimum qualifications. This means that you can expect to get paid whether or not you manage to make a sale. This is meant to serve as an incentive to sales reps and encourage them to try to make sales.
While you are guaranteed to earn a base pay when you promote Cutco's products, you get to earn more in commissions when you complete a sale. The sales commission plan of the company entails being paid a percentage commission depending on the number of sales that you make. The earnings range from 10% to around 35%, with the payments being made to sales reps every week.
---
PROS
It has been in existence for quite a while
As previously mentioned, Cutco has been in existence since 1949, and it acquired Vector Marketing, which has been in existence since 1981, in 1985. As a result, it is well-established, giving it an edge over companies selling similar products.
The products seem to be of good quality
The products from Cutco are of high quality, which can be attributed to the use of superior materials in their design as well as the durable construction. Products that are of good quality are generally easier to sell to customers.
You don't need a sales background to get started
There are no requirements to become a sales representative with the company as long as you are over 18 years old. Therefore, the opportunity is available to even those that might have no experience in sales and marketing.
There is no joining fee you are expected to pay
You are not required to pay any fee to become a sales representative as is often the case with companies that have a similar business model. This makes it a more accessible opportunity especially for those that may not have financial capital.
Cutco provides a free sharpening service for customers once they purchase to ensure that the knives remain sharp. This could potentially serve as an incentive for customers who need a bit more convincing to buy the knives.
There is a 15-day money-back guarantee for customers
Customers have the option to return or exchange a product that they buy from the company within the first 15 days and ask for a full refund on their purchase. However, they have to contact the company first and also include printed information with the return package.
---
CONS
There is not much money to be made
The earning potential working with Cutco is low especially when you are new to the business. Although the company does not go into specifics on what sales representatives earn, reviews online as well as distributors that have had experience working with the company have raised issues with the low earnings.
You are not compensated during the training period
During the training, you are expected to attend a seminar organized by the company for three consecutive days before you start earning an income. There is no compensation offered for your daily needs during this time, which means you have to pay for things such as transport out of your pocket.
The compensation plan is very vague
The compensation plan fails to detail the amount in commissions that sales representatives earn as well as the base pay amount. One thing that should be a given with any business is the amount that employers can expect to earn.
The company targets college students
The company places print and online advertisements that target college students. There have been numerous complaints about these ads they tend to misrepresent how much sales representatives are supposed to earn. The vagueness is probably meant to attract those who may be in dire need of money, and college students often fall into this category.
You are required to do home demonstrations
Although it is claimed that you can make sales online, most of the sales representatives working with the company have reported that a majority of the work involves going from one door to another to try and find buyers by demonstrating how to use the products. In my opinion, this is an updated approach and may not have as much success especially in the age of e-commerce.
The knife sharpening service comes with a shipping fee
Although the company offers free knife sharpening services, there is a shipping fee that customers are required to pay that ranges from $7-$1.0, so it is not exactly free in the first place.
The company has had issues with the law
The company has faced multiple issues in terms of how it is run, with Vector Marketing facing lawsuits for failing to comply with the New York labor laws.
---
VERDICT
Cutco is a legitimate company that is well-established and offers a wide range of high-quality products to customers. However, I would not recommend working as a sales representative for the company as the earning potential is reportedly far from impressive, yet you are required to promote the products extensively.
---
WHAT IS BETTER THAN CUTCO?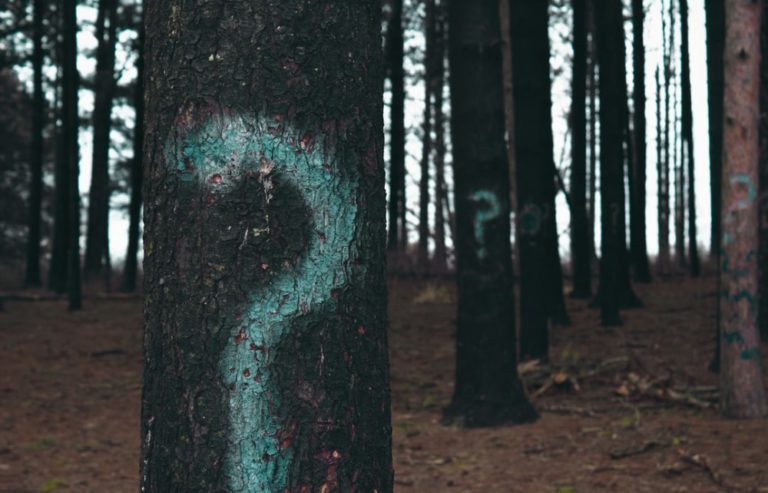 MLM has been around for a long time.  Unfortunately, over than period of time, it has garnered a pretty negative reputation.  A quick search online will show you that there are a ton of MLM companies that are in trouble with the law.  The line between a legitimate MLM and a Ponzi scheme is very blurry.  That's why so many of the companies are in trouble.
I prefer a simpler model.  I hate selling stuff to family and friends.  I don't like to build down lines or to have to buy products that I may not be able to sell.
My chosen model is affiliate marketing.  I don't need an inventory, and I don't need to worry about shipping.  There are no customer service headaches either.  I have a website that solves people's problems.  I offer recommendations based on my experience and research.  When the reader takes me up on my recommendation and makes a purchase, I get a commission.  It's that simple (notice I did not say easy!).
I love the fact that affiliate marketing has no ceiling to the amount of money you can earn.  You are building a business that will allow you the freedom and security to provide for you and your family.  No more worrying about getting laid off.  No more long commutes!
CHECK OUT MY TOP RECOMMENDED AFFILIATE MARKETING TRAINING – FOR FREE!
I hope you take me up on my offer and at least take a look at the training and community that I am offering you.  You have nothing to lose!  I would love to meet you on the other side of that link and help you to launch your own online business!
See you on the other side!
To your success,
Mike Aha