A Get Paid To site (GPT) is a website that pays you to perform tasks online. They are also sometimes referred to as Survey sites or Reward sites. Apart from allowing people to take part in paid online surveys, GPT sites also have several other ways of making money online.
There are thousands of GPTs websites available and the industry is rapidly growing. One of the leading websites in this competitive industry is Rewarding Ways.  Here is a review of Rewarding Ways and how you can use the platform to make money online.
---
WHAT IS REWARDING WAYS?
Rewarding Ways is a get paid to (GPT) website that allows its users to access many paid surveys and various offers. The platform is a product of 99 Ventures, a UK based company that is widely known for online advertising. The company owns several GPT sites, among them being Rewarding Ways. The platform has been available since 2011 and has since developed into a very user-friendly website.
The platform is free to join and is one of the fastest-growing get paid to sites in the industry. It works with several advertising networks and different companies which is how it gets to provide offers for its users. When a company wants to get users for its products, the company is listed by Rewarding Ways' site. After the offer is completed by a user through the website, the completion of your work is reported and then credited.
---
HOW DOES REWARDING WAYS WORK?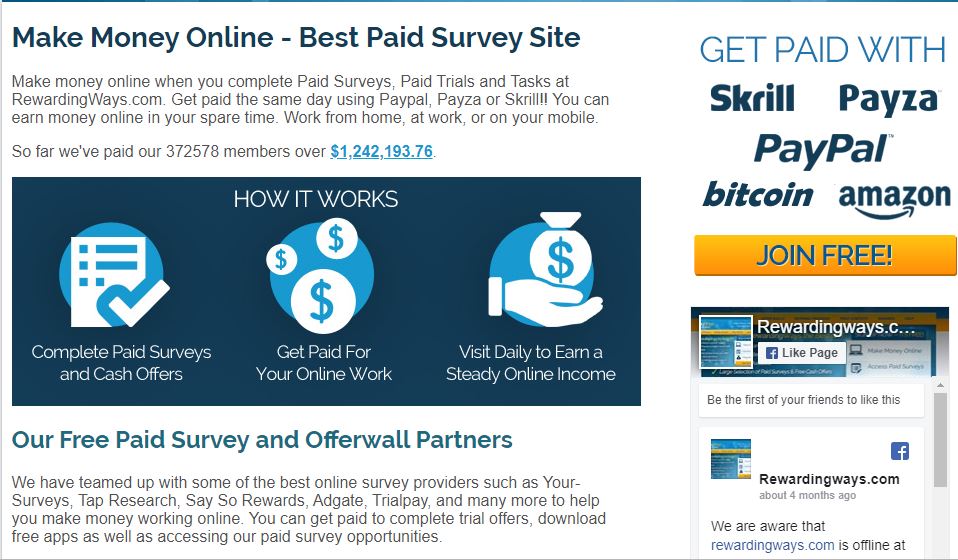 In order to start earning with Rewarding Ways, you first need to access its website and create an account. In order to create an account, you will have to provide some of your personal information including your email address, your password, and details of your PayPal account. You will also need to create a username. Once you have provided all the necessary information, you will then have to wait for your account to be verified before you start making money from the website. Every new member to create an account with Rewarding Ways is given a $0.20 bonus in their account.
Rewarding Ways has a website that is functional on mobile devices. This means that you can easily access the website on a tablet or phone. The platform, however, does not have a mobile app hence it can only be accessed via the website. Even though the website is accessible via the phone or tablet, it is not very well optimized for mobile devices. The website on mobile devices appears to be very small making it very hard to navigate especially on phones with small screens. Even though it is possible to earn using a mobile device, the website is harder to use.
---
HOW DO YOU MAKE MONEY WITH REWARDING WAYS?
There are several ways of making money with Rewarding Ways. They include:
Paid Surveys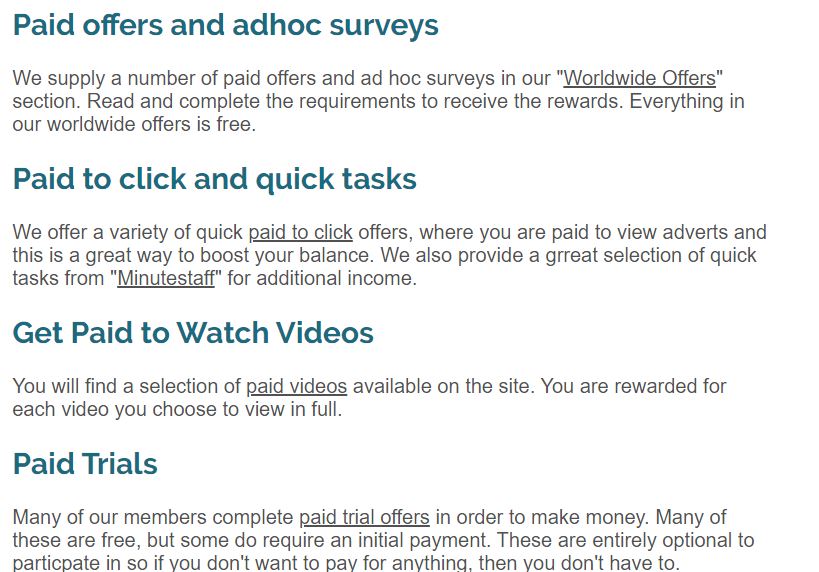 You can earn money with Rewarding Ways through paid surveys. This method is one of the best ways of earning an income through the platform. The paid surveys on the platform are offered by third-party providers. This means that the surveys are offered by the platform's partners and not Rewarding Ways itself. Since the surveys are offered by various companies, there are many different offers hence the chances of finding suitable offers are high.
It is important to note that when you take the surveys offered by the third-party providers, in many cases you will be asked to provide your basic personal information especially if you are taking a survey through the provider for the first time. This may be a bit annoying at times.
Rewarding Ways has a lot of survey partners, meaning that the chances of finding opportunities on at least one of the partners are high. However, as it is with all other survey sites, chances are that you may not qualify to take surveys for all the survey sites on the platform. This, however, should not discourage you as it is normal to not qualify for many surveys. The surveys take approximately 5 to 30 minutes to complete.
Watch Videos
Another way you can make money with the platform is by watching videos. You are given a small reward after watching a small video. The small videos can be ads or short entertaining videos. There are a lot of videos available on the platform to choose from. The rewards, however, are very small so you won't make a lot of money through this method. However, if you enjoy watching short entertaining videos, it can be a nice way of earning a little money while having fun. There are almost unlimited videos on the platform hence you can watch the videos at any time.
Take offers
Similar to many other GPT or survey sites, Rewarding Ways has an offer wall. An offer wall allows you to take different online offers. The offers may include signing up for a website or trial for a website, signing up for emails and newsletters downloading an app, and much more. There are many od these offers available on the platform.
Some of the walls on Rewarding Ways can have rewards that are really good. Some of the offer walls that are well-known include Offer Toro, Peanut Labs, Personal.ly, Adgate Media, Wannad ads, among others.  There are also many other offers that are not worth your time. It is therefore important that you carefully check out the conditions before taking any of the offers.
With the offers, however, the sites that give you the offers will only pay you with points instead of cash. These points are not redeemable for another cash reward or for PayPal. The only way you can redeem these points is through gift cards.
Most of the time, the rewards for the offers being given are the same regardless of the sites you are taking the offers on. In order to determine the site that suits you best, therefore, you have to check for the one whose payout methods you prefer. With this method, you can also find extra paid surveys being offered on the walls.
Promo Codes
With Rewarding Ways, you can sometimes get a promo code that can give you a small free reward. To earn money through this method you have to be vigilant on the platform's social media accounts. This is because the promo codes are posted there once in a while. When you get one of the promo codes, you fill it in when you log into the platform.
Earning money on the platform through this method, however, is not reliable since the promo codes are not frequently posted on their social media accounts. Although the rewards are decent when compared to other platforms that offer promo codes, they are not huge. Nonetheless, it is an easy way of making money on the platform.
Invite other people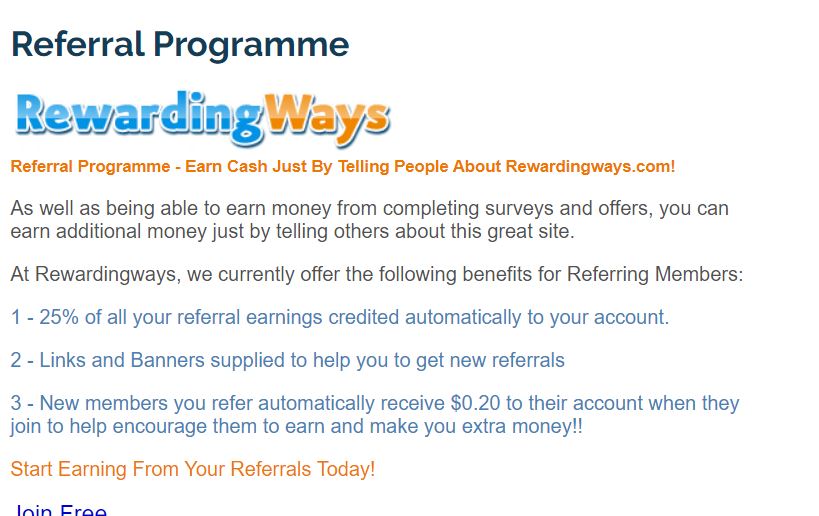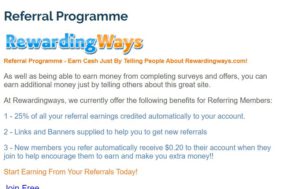 You can also earn money on the platform by inviting other people. As a Rewarding Ways member, you are given a link that you can share with other people. When a person joins the platform using your link, you get to earn a commission every time that person takes an offer or a survey. For every invite, you get a commission of 25%. This may sound like a lot, but you will make money with the site through this method only if your invites actively use the site. All in all, it is a good method of earning extra money on Rewarding Ways.
Cash Contest
Another way of making money with the platform is through a cash contest held every three months by Rewarding Ways where the top 20 members are rewarded. The total prize offered is $1000. The person that makes the most amount of money with Rewarding Ways within the 3-month period is awarded an extra $350. This amount decreases with the 20th best earner getting an extra $10.
This is a good way for active members who take part in surveys and take a lot of offers to earn extra money with the platform. This, however, will require a lot of effort for you to get into the top 20 in order to be eligible for a reward. Compared to other GPT sites, Rewarding Ways gives very big rewards.
---
HOW ARE YOU PAID?
Rewarding Ways has a reliable payment system. Once you complete a task, a survey, watch a video, among other ways of making money on the platform, you will get paid in dollars and most of the time your earnings will reflect right away on your Rewarding Ways account. Some of the options of earning money on the platform pay you in the form of points that can later be converted into cash. There are several options to choose from to have your cash paid out. You can choose to have your money paid out through PayPal, bitcoin, or Skrill. The points you earn are redeemable via Amazon gift cards or you can choose to convert your points into cash.
When you request a payout, the money will be transferred to you within a day. This is impressive since the payout is fast and is smoother compared to other similar sites. Rewarding Ways also has a payout threshold that is very low. With a low payout threshold, you do not have to make a lot of money on the platform before you are eligible to request a payout. The payout threshold varies depending on the mode of payment you prefer to use. Skrill and PayPal users have a payout threshold of only $1, which is significantly lower than the payout threshold of similar sites. For you to be paid through Payza, you need to surpass a threshold of $10. The payout threshold for bitcoin is $15.
Rewarding Ways has a Locked Funds status which is applied to reduce fraudulent transactions. The Locked Funds status is applied to high-value transactions.  This status is automatic and usually remains for about 30 days on offers that are of high value. However, the period may be longer if any form of fraud is suspected by the website. The only offers that are locked are those of high value. The Locked Funds status is not applied to most of the other offers. The only way for the funds to be unlocked is if the offer has been completed legitimately and is approved by the advertiser, after which the funds will be credited to you within 30 days. By locking the funds, both you, Rewarding Ways, and their advertisers are protected from fraudulent users.
---
PROS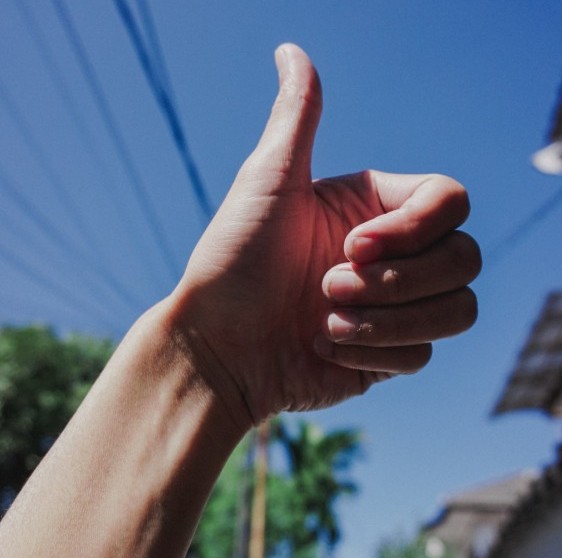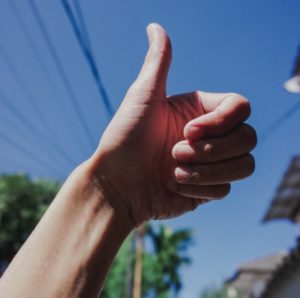 The platform has wonderful payout options
It has a reliable customer support system
Rewarding Ways is available in all countries
The platform offers several varying ways of making money online
The $1 payout threshold is lower compared to similar platforms
New members of the platform are given a registration cash bonus when they open an account
Payouts by Rewarding Ways are fast through a variety of options including PayPal, Bitcoin, Skrill, Amazon Gift Cards, and Payza.
The platform has a good referral program
There is no limit to which you can withdraw your earnings
CONS
Most of the time it is difficult to qualify for the surveys
Most of the offers on the offer wall are only available to the USA, Canada, UK, and Australia residents only.
Most of the ways of making money on the platform have a low-income potential hence cannot be relied on solely as a source of income
The platform may be difficult to use at first
---
VERDICT
Rewarding Ways is a legitimate platform that allows you to make money online. The platform has a good payout system that is reliable and safe. The best part about it is that it pays through very reliable payment options.  You will not get rich with it but you can make extra money.
Even though using the platform may prove to be a little difficult at first, you can get the hang of it within a relatively short time. It is for this reason recommend Regarding Ways as a platform for making money online.
Check out my other recommendations for making extra money online!
I hope you found this post helpful.  Please leave your comments below!
To your success,
Mike Aha