Profit 365 is the latest Clickbank product by well-known internet marketer, Jamie Lewis. According to his sales pitch, you can make upwards of $2800 through Profit 365. So, is it all hype or is it actually a legitimate product? Here is my Profit 365 review to help you decide for yourself.
Product Being Reviewed: Profit 365.co
---
WHAT IS PROFIT 365?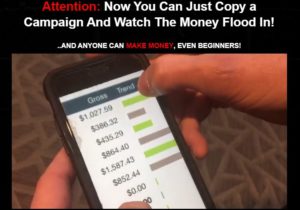 Profit 365 is a Clickbank product by Jamie Lewis. It promises to help you make thousands of dollars every day by using an automated system that requires minimum effort from you. According to Jamie, once you have set things up the right way, you can sit back and watch it make money for you day in, day out for as long as you keep it running.
The Profit 365 website is a simple one. The sales page simply has a pitch video and a form, and that's it. The video is around 10 minutes long, with Jamie explaining how easy his product is to use and showing off some of his profit proofs. In online money-making circles, Jamie is kind of a big deal. He has been in the business for over 14 years, and he is one of the few people who almost everyone can agree has found legitimate success online. He definitely knows his stuff, there is no doubt about that. And that is the problem.
See, when he shows off his income proofs, it is impossible to tell the source of those figures. He has several online businesses that are simultaneously making him money, and him claiming that the figures are entirely from Profit 365 is very misleading. The product creator is notorious for hyperbole and exaggeration when promoting his products and services.  Among his other products are Wealthy Agency and Profit Injector, which I have reviewed before. He showed the same income proofs in the other products too, which only goes to show that if indeed he makes thousands of dollars every day, it may not be from a single source. He likes to hype things up and make them appear better or easier than they actually are, which inevitably will lead to disappointments among adopters of his programs.
---
HOW DOES IT WORK?
Profit 365 is all about making money with affiliate marketing. Money comes in when you do all of three things: use Pay Per Click to get traffic, Solo Ads to send emails, and ClickBank to get the products that your will be selling.
Buying the $34 product will give you access to instructional videos and 40 Clickbank solo ads that have already been created and are ready to plug and play, complete with associated keywords. You also get recommendations from Jamie on the products you should promote, saving you a lot of time that you would have otherwise spent doing research. Combine that with buying paid traffic to further promote your Clickbank products and you will be well on your way to rapidly generating commissions from associated sales.
And that is all there is to it. By simply doing this, Jamie assures you that you can make at least $2800 every day in affiliate commissions.
---
SO, CAN YOU ACTUALLY MAKE MONEY FROM PROFIT 365?
Yes, it is possible to make some money with Profit 365. Affiliate marketing is a legitimate business model that a lot of people use to earn thousands and even millions of dollars online. As an affiliate marketer, your job is to generate leads which convert to the sales of someone else's products. You earn a commission for every sale you make. You are essentially the middle man, finding paying customers for someone else's business and getting paid for your efforts.
Profit 365 claims to do all the work for you. It gives you a ready-made promotional product, complete with the ads you are supposed to run. All the products you should sell have been preselected for you.
Although this could make you some money, there is a high chance that the recommended products are simply just high paying and not high quality. As an affiliate marketer, building the trust of your audience is essential to your success. If you recommend substandard products, or when you recommend products that you have no experience in yourself, you risk betraying their trust. When someone uses a product you recommended and it turns out to be a scam, they will blame you. Since your audience is basically the lifeline of your affiliate marketing business, it can be hard to recover from something like this. As the saying goes, it takes years to build trust, but only a day to lose it all.
Therefore, just because a product promises you the best commissions does not mean it is actually good. Most of the time, it usually means the complete opposite. A lot of products in the money-making niche, the same products being promoted by this system, tend to be low quality and only out to get your money. You should tread carefully, and always do your research on anything you wish to promote in your business. Promoting products that you have faith in is the best way to build your affiliate marketing business.
While profit 365 makes some tools available for you to earn a profit, it is not specific in what actions you must take to earn these profits. This is why I strongly believe it is not a product meant for beginners. It assumes you know what you need to do to get the traffic you require to drive those numbers, and it assumes you know the ins and outs of solo marketing.
Solo marketing is an affiliate marketing technique that involves paying other marketers to promote your product for you in their circles. You therefore get a lot of traffic to your promotions within a very short time. The only downside to this strategy is that you have no idea about the nature of those other marketers' subscribers, and there is no way to tell whether they are relevant to your product or if they have just been bought from some third party. You need to have a good understanding of paid traffic and how things work before even attempting to go down this road. If you attempt is as a complete novice, you risk losing much more money than you can make. Plus, there are several upsells once you purchase the product, which will definitely make you spend way more than $34 if you want to fully take advantage of everything the system has to offer.
Another thing that you should keep in mind is that it takes time to build an affiliate marketing business to the heights that Jamie is talking about. He makes it look easy, but the best affiliate marketing businesses have been built on foundations of patience, perseverance, determination and hard work. Do not expect to make anywhere near the figures he is talking about within the first few months. In fact, you may even have some months when you make nothing at all, especially when you are just starting out. It is all about plowing through the hard times and forging ahead.
The fact that Jamie does not advocate for the necessity of owning a website is also something to take note of. You need a good website if you want to be effective in affiliate marketing. Profit 365 does not tell you this, and offers no guidance on how to go about website building or content creation.
---
FINAL THOUGHTS
Affiliate marketing is about providing value for your audience, and not just to sell stuff to them. It is about being honest, and promoting products that you believe in. When you take the recommended quick revenue generating products of a "guru", you risk promoting lower quality products that to not meet the standards you and your business intend to uphold.
Furthermore, when you take the paid traffic route, you risk building your business on a low-quality audience. The best way to do it is to build your email list organically, by consistently posting high quality content that resonates with your readers and builds their trust. Once you have an audience that trusts you, only promote products that you are confident enough to them.
Although Profit 365 works in theory, there is very little guidance that has been offered on how to go about getting there. If you are a complete beginner, you will find it hard to hit the numbers being talked about in the promo video. However, if you know what you are doing, it is perfectly possible to make it work. Just don't expect to hit thousands of dollars in daily income with it, because the profit statements that Jamie shares are obviously from multiple revenue sources.
I am a firm believer in learning money making strategies the hard way, from scratch. It is the only way anyone can eventually become an expert in their own right. If you build your own business from scratch, you will learn more and be able to adapt to any situation more seamlessly. If you use these tailor-made solutions, if anything happens to the hosting system, you are left out in the cold.
On the plus side, if you are not satisfied with Profit 365, you can always take advantage of the Clickbank 60-day money back guarantee and get your initial purchase amount back. However, you should note that if you spend any money on upsells, Clickbank will not reimburse you for that.
Even if you forget about everything else you have just read here today, remember this: Online businesses, just like any other business, take time to build. Affiliate marketing businesses especially start out slow, and as you slowly learn and build your business, your growth will open you up to newer and better opportunities. In the end, the sky is the limit. You can eventually make as much money as you want. So be patient, be resilient, and work hard on your business, success will soon find you.
CLICK HERE FOR MY #1 RECOMMENDED AFFILIATE MARKETING TRAINING!
To your Success!
Mike A