Welcome to my HealthyWage Review
If you have ever tried to be healthier and lose weight, then you probably have some idea of just how hard it can be to gain that motivation that will help you to achieve your goals. Maybe you have bought a gym membership or expensive exercising equipment only to abandon them within a few weeks of use. But what if there was an incentive such as a cash prize to help you attain your weight goal? Read on for an honest and unbiased review of a company that promises to help you earn some cash if you lose weight.
---
WHAT IS HEALTHYWAGE?
HealthyWage is an online company that uses cash prizes as motivation to help users to lose weight and become healthier. It was founded in 2009 by David Roddenberry and Jimmy Fleming in New York and comprises of a variety of challenges, including the $10,000 team challenge, the HealthyWager challenge, jackpot challenges, and step challenges.
---
HOW DOES HEALTHYWAGE WORK?
You can sign up to use HealthyWage in the following simple steps:
1. DETERMINE YOUR CASH PRIZE AMOUNT USING THE PRIZE CALCULATOR.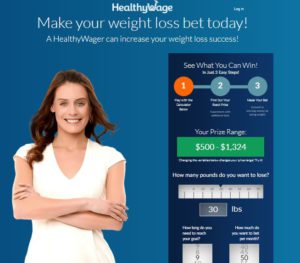 To get started, you are required to select your weight loss goal and see the amount in cash prizes that you can win. It is worth noting that the minimum weight loss goal you set must be at least 10% of your current body weight. For instance, if you weigh 200 pounds, you will have to lose a minimum of 20 pounds to be eligible for a chance to win the cash prize.
Another rule requires that you wager a minimum of $100 throughout the challenge. The length of time during which the challenge takes place must be between 6 and 18 months, and you have to wager at least $5 per month to a maximum of $995 monthly, as long as the total amount you wager during the challenge period is a minimum of $100.
The goal that you set will include the number of pounds that you intend to lose and the time frame (in months) that you expect to lose them in. You will also be required to set the amount that you intend to bet on a monthly basis. As you make adjustments to all these variables, you will notice that the range of the prize goes up and down based on your inputs. Since you are not expected to make a commitment yet, mess around with the calculator until you find a weight loss figure and prize range that you are comfortable with. For more motivation to lose weight, consider setting a dollar amount that will hurt to lose if you end up throwing in the towel when achieving your goal becomes a little too tough.
2. SIGN UP FOR HEALTHYWAGE TO PLACE YOUR BET
After you have finished with the first step, you will be required to provide specific data about yourself, including:
Gender
Height
Waist size
Current weight (this will be verified later)
To see your unique prize amount, which is based on the data you have provided, you will need to enter your email address and create a password. HealthyWage makes use of a "proprietary algorithm" to calculate the various prizes, so you might find that 2 people entering pretty similar information receiving different prizes. Your prize amount will be set during the initial set up of this individual challenge. Once you are presented with this amount, you can then decide if you want to go ahead and place a bet. If it is something you want to pursue, you will be required to provide your credit card information and choose to make a payment all at once or in monthly installments.
3. VERIFY YOUR WEIGHT
It might cross your mind to enter an inflated initial weight and cash in when you miraculously lose the pounds, but the verification process of HealthyWage prevents users from doing this. You are required to verify your starting weight before you take part in the challenge. You will also have to verify it when the challenge comes to an end to see if you achieved your goal. There are three ways you can verify your weight:
–  USE THE APP
You can download the HealthyWage app on iOS or Android and have one of the referees from HealthyWage remotely witness your weighing in.
– MAKE A VIDEO
The other option is to make a weigh-in video and then upload it to the HealthyWage website.
All you will need for the verification process is a scale and a smartphone. You don't have to worry about other weigh-ins once you do the initial and end-result weigh-ins.
– VERIFICATION AT A WEIGHT WATCHERS MEETING
This option is only available to Weight Watchers members.
4. LOSE THE WEIGHT AND WIN MONEY
Your HealthyWage challenge will come to an end on the given date. To win the cash prize, you will need to attain your weight loss goal within the timeframe that you set up. If you fail to achieve your target, you will lose the money that you wagered.
---
HOW CAN YOU MAKE MONEY WITH HEALTHYWAGE?
Other than the HealthyWager individual weight loss bet, there are several other ways you can make money using HealthyWage:
1. TEAM CHALLENGES
As the name suggests, you take part in the team challenges in a team. The teams consist of 5 people, and each person in the various teams has to lose a particular amount of weight. You can easily sign up with a team of five people that you know are motivated to shed a couple of pounds for money. Alternatively, you can join a team, or get matched with a participating team if you don't have one.
The team that loses the highest percentage stands the chance to win a cash prize of up to $10,000. Unlike with the other challenges you will find on HealthyWage, the weight loss of the team as a whole is what matters rather than individual weight loss. Therefore, all members have to lose weight to have a shot at winning.
For the team challenge, to be aware of where you stand in the challenge, ensure that all the participants in your team step on the scale weekly and submit the results on the HealthyWage website. Ensure that these weigh-ins are as accurate as possible.
The average weight loss of each individual is added together and the total number obtained is divided by the number of teammates that achieved the team mean proportionate weight loss.
2. JACKPOT CHALLENGES

Both individuals and teams can take part in the jackpot challenges. The individual jackpot challenges are known as Personal Jackpot challenges, and if you reach or exceed a 6% average weight loss at the end of the challenge, you win a cash prize. You can do unofficial weigh-ins once a week and enter the results on the HealthyWage website, but these weigh-ins do not have to be verified.
For team jackpot challenges, the rules are pretty much the same, with the only exception being that all teams have to be locked, that is no one can leave or join without reaching out to the HealthyWage team, 14 days after the challenge kicks off. Every team that achieves or exceeds a 6% average weight loss in the verified end of challenge weigh-out wins. The prize, which is the cash that is collected at the beginning of the jackpot challenge from all participants, is then split evenly among all the members of winning teams.
3. STEP CHALLENGES

The step challenges are specifically team challenges where each member is required to ramp up their steps by 25%. All of the participants who take part and win get to split the prize pot. Unlike with the other team challenges on HealthyWage, in Step Challenges, while you take part as a member of a team, you participate as an individual. Therefore, if you manage to increase your personal step goal by 255% by the time the challenge comes to an end, then you get to win, even if the other members of your team fail to meet their step goal
4. REFER FRIENDS AND FAMILY
Another way you can earn money through HealthyWage is by making referrals. If you want your family and friends to be a part of your fitness journey, encourage them to sign up for HealthyWage using your unique referral link. For every successful referral, you will receive up to $40.
5. AFFILIATE PROGRAM
HealthyWage also has an affiliate program that you can join for free. The program provides users with all the tools that they will need to promote HealthyWage. It is available for two HealthyWage products – the team challenge and the HealthyWager. You get to earn %50 for every sign up on HealthyWager that you generate, and $30 for every Team Challenge participant you get to sign up.
Once you apply and get approved to become a HealthyWage affiliate, share your unique affiliate link on social media or via email, or place the HealthyWage links and graphics on your site. When visitors click on the links or banner ads, they will be redirected to the HealthyWage website where they can sign up to take part in a HealthyWager or a Team Challenge.
---
HOW DO YOU GET PAID?
When you win a challenge, you earn HealthyWage (HW) points. Each HW point is worth $1, and you can either redeem them as cash or use them to take part in another challenge. Once you have been alerted of your challenge victory, the HW points you earn will be added to your account by the evening of the announcement.
HealthyWage makes payments to winners via paper check or PayPal. If you select check payment, you will get your check one to three weeks after you request a payout. If you want to receive your money via PayPal, the payment will be processed in two to five days. Keep in mind that your HW points will expire after a year of being posted on your HealthyWage account.
---
PROS
You get to set your own goals. HealthyWage allows you to set your weight loss goal in a time frame you consider to be reasonable.
There are a variety of ways to earn an income. There are a variety of challenges you can take part in, and you can also make referrals or join the affiliate program to make money.
Motivation to lose weight. If you find it easier to lose weight in a group setting, you can rely on the support and teamwork opportunities provided in HealthyWage.
Easy to join and take part in. To get started using HealthyWage, all you need to do is provide some basic information, set goals, and bet.
Payment in cash. HealthyWage pays you in cash (as opposed to gift cards or points) which you can redeem as soon as you have accumulated enough points.
CONS
There are no refunds. There are no cancellations or refunds on HealthyWage. Once you sign up, your account can only be suspended, but you will not get back the money that you invested. Additionally, if you fail to achieve your weight loss goal, you will lose your money as well, so there is some risk involved.
The problem with the team challenge. If your teammates decide to drop out of the challenge, you will end up losing your share of the money invested even if you don't drop out yourself.
---
VERDICT
Depending on the weight goals that you set, there is the true potential for you to earn some cash using HealthyWage. However, don't expect to quit your day job and fully rely on the site for an income. On the other hand, if you are serious about kicking off your weight loss journey and are willing to invest some money, it can totally provide a great source of motivation and self-discipline to reach your goal.  If you are going to lose weight and get healthier why not earn some money in the process!
Website:HealthyWage
Legit or Scam: Legit
Score: 9.7/10
Cost: Bet Amount of your choice (minimum $100)
Verdict: Highly Recommended
If you are interested in another way to make some money for doing healthy stuff check out my Achievement Health App Review
To your success,
Mike Aha